If we want our kids to grow up with self-control, we have to grow up first.
Spanking has been a controversial topic in the realm of parenting for some time. Is physical punishment ever justified? What are appropriate measures when it comes to discipline? Reflecting on the foundation and purpose of parental authority as well as on virtues necessary for all educators can shed light on these questions.
Authority, related to the Latin augere (to augment or grow), is meant to foster growth. People in authority ought to use their power to nurture the development of those in their care. Authority is legitimate in the measure in which it seeks to guide children towards independence.
Fr. Yannik Bonnet, a father of seven who became a priest after his wife died, has reflected deeply on the great challenge of education. Fr. Bonnet suggests that authority should serve the person being educated. The purpose of education is to allow the student or child to find joy and meaning in life. If the exercise of authority is informed by a desire to help someone grow, live in society, and build a happy life, it will yield positive results. Authority, in this case, is a service rendered to the person being governed. It is an expression of love.
Cultivating fortitude and temperance
In real life, when you're at the end of your rope, exhausted and exasperated by a raging child, the temptation to resort to corporal punishment can be strong. First of all, the American Academy of Pediatrics recently published new guidelines, explaining that corporal punishment in the home is counterproductive. But in addition to that, Fr. Bonnet insists on the necessity of educating ourselves in order to educate our children. We need to deeply assimilate our principles and values in order to act on them in the most challenging moments. We raise our children but they also raise us, and require us to overcome ourselves daily.
The cardinal virtues of justice, fortitude, prudence, and temperance are essential for parents. Fortitude is particularly useful in resisting the urge to use force with children. Certain crises, from toddlerhood to adolescence, demand of parents a veritable moral fortitude to stand firm without losing our cool. It's also important to model temperance, or mastery of passions. How can we help children direct their emotions and overcome compulsions if we don't lead by example?
Handling temper tantrums
Some parents use spanking as a last resort when a child won't respond to any other means of discipline. It's worth noting, however, that spanking in a heated moment sometimes escalates the situation, and (as mentioned above) has been shown to be detrimental in the long term. It may be more effective to take a step back from the child and put some distance between you. This gives both parties a chance to release their anger. Parents model a healthy response to anger when they can name it and release it. A parent might say, "We're both upset right now. Let's take a few minutes apart and then talk about this when we're calm."
This attitude recognizes the child's need to feel anger and allow it to pass through her body. It also shows her that she has a choice: to hold onto the anger or to let it go. Teaching children to navigate difficult feelings gives them agency and enables them to choose growth. It's not about being perfect, but instead helping kids to understand how their brains, bodies, and emotions work. When they're taught this way from a young age, kids will know they're made to grow and to be happy. They'll also understand that happiness doesn't fall from the sky: it's made intentionally, through decisions of a will informed by true freedom.
Read more:
Why I Don't Spank My Children Anymore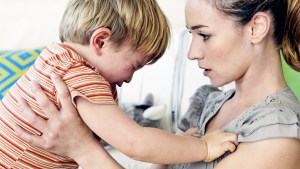 Read more:
Here's a great technique to teach your kids to regulate their emotions