If I hadn't done this, the days following my daughter's birth would have been very different.
I came pretty close to developing a bad case of postpartum depression after my daughter was born. The more I think about it, the more sure I am that avoiding it came down to one minor, spur of the moment resolution that I made weeks before labor began.
The reality of labor, suddenly in my not-too-distant future, was starting to sink in, and I was starting to worry about the infinite list of things that could go wrong. I was tired of trying not to be afraid, and promised myself, "Whatever happens, I'm allowed to feel whatever I feel." If I hate giving birth? Then I hate it. If I'm disappointed, or scared, or angry, or embarrassed, then that's how I feel, and that's okay."
Speaking as somebody who generally sinks about 90 percent of my energy into not feeling uncomfortable emotions, this was revolutionary. And it changed my whole story. See, as much as I am not thrilled about giving birth, there was exactly one thing I was actually excited about: the first hour after giving birth, when the bonding hormones are coursing through you, and nothing in the world is as all-consuming as your love for the baby in your arms. It was glorious with my first child.
The mere memory of that rush of fierce love kept me going through a lot of tough nights with my son, and anticipating that same moment kept me going through some of the worst contractions with my daughter. But when the time came, and then my daughter was wrapped up and nursing for the first time, I felt a crawling sense of dread — and beyond that, nothing at all. She didn't even feel real to me.
I chalked it up to exhaustion, but the feeling didn't go away. I stayed in the hospital for a few days, and as much as I looked at her, I didn't feel a thing. She didn't seem beautiful to me. She didn't seem precious. She seemed frightening, and unreal. I didn't take many pictures of her.
Months later, I discovered that this wasn't because I didn't love her. I learned that I have a condition called Dysphoric Milk Ejection Reflex (D-MER), which explained all of it. D-MER is characterized by feelings of anxiety, sadness, or anger, as a result of a glitch in the hormonal activity responsible for the breastmilk let-down. It's like clockwork. Something like 45 seconds before the milk comes in, all the joy in the world vanishes, replaced by a sense of fear and sadness.
No wonder I felt so disconnected — every time a newly postpartum mother so much as looks at her baby, the milk comes in. And in my case, my dopamine levels plummeted. She was nursing really well, and I was lucky enough to have a great milk supply, but all of that actually made it worse.
But the best part — the part that saved me — is that I had already made the choice not to take any mood of mine, no matter how unreasonable, as proof that I'm not a good enough mother. When the D-MER hit, I didn't know what it was, but I did know to say "Ugh, I feel rotten … and that's okay. I'm allowed to feel rotten."
I could have spent those three days, and the weeks that followed, feeling like a horrible mother. It would have been be typical of me to spend those weeks berating myself for my lack of feeling. It's not hard to imagine that kind of prolonged negativity and judgment tipping my mood in the direction of depression. But because I accepted my feelings, even though I didn't like them, and absolutely didn't understand them, I didn't waste precious energy feeling like a failure. I just lived my life, nursed my baby, and recovered.
Whether or not you have D-MER, postpartum hormones are famously pretty difficult to weather. Self-acceptance seems like a minor thing, but it's not. For me, it changed everything. Giving birth is hard enough without unnecessary burdens like trying to control emotions that refuse to cooperate. Having one less burden made all the difference.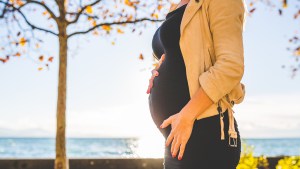 Read more:
How I manage the 9 biggest inconveniences of pregnancy