Will the moments we choose to immortalize become more important than the rest?
I took my family walking through a popular state park on the last sunny weekend in autumn, and we ended up passing:
a very infatuated pair having engagement pictures done

a bride and groom getting their wedding pictures

a pregnancy announcement photoshoot complete with chalkboard sign
at least two family photo sessions, and
somebody getting pictures of his shiny new sports car against a background of glorious autumn foliage.
We may have accidentally-on-purpose photobombed that last one.
I was taking pictures too, so I can't judge. As strangers in the supermarket keep informing me, "Life moves so fast! Those babies will be grown up before you know it!" It's nice to capture some moments along the way so that when we blink our eyes and our kids are teens (or … the new sports car has rusted over?) we're able to remember what life used to be like. And how happy we were.
There's nothing wrong with that. As my kids get older, though, I've started trying to leave my camera behind. I won't be taking more than a handful of pictures this Christmas. I didn't take any on Halloween, and I don't regret it.

That's because the habit of taking pictures of every potential hallmark moment is sending a message I don't want to send: that the experiences that matter the most are the ones that can be recorded. I don't want my kids to learn that lesson at all, and I desperately want to unlearn it.  
Not many of our parents had digital cameras, and none of them had smartphones, so we don't think about this much, but consider it from our kids' point of view: Won't they end up thinking that the moments we choose to immortalize are more important than the rest?
But that's not how life works. It's the moments that you couldn't even get a picture of if you tried, that lend richness and joy to our lives. In my life, it's making my son laugh with potty jokes, telling him about dragons over lunch, or hanging out with my husband in the evening, catching up. It's singing my daughter back to sleep, and taking walks, and cooking with pop songs playing in the background. It's those things that can't be captured, more than the special days, that make me so happy.
Our routines, the mundane things we're so used to that we don't notice — that's what makes up the meat of our life. The rest is extra, and making sure we record all the extra moments only teaches us all that the things that don't stand out aren't as important.
If that's what you believe, you'll find yourself looking for fulfillment in all the wrong places.
I'll probably keep taking pictures. It's something that brings me joy. But I'll also try to remember that most amazing moments can't be recorded, and it doesn't make them any less wonderful. I'll try to get used to the idea that in the end, most of our memories are lost to time, and that's okay too. The present moment, not nostalgia for the past, is where the joy is.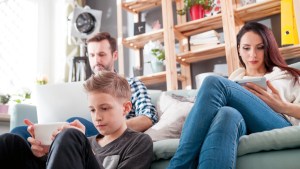 Read more:
How to break free from a "technology-addled" society