Two simple ways to remember the first martyr, the martyrs of our own day, and our own call to lay down our lives in the little sacrifices we face.
Here we are on the Second Day of Christmas, and the first thing the Church wants to tell us about is the first martyr of the Church, St. Stephen.
The message? Christmas means martyrdom — and many St. Stephens die in our own day for Christ in exactly the way he did.
Death is a central part of the original Christmas story.
Jesus Christ came into the world pursued by an evil King Herod who wanted him dead, and he would leave the world as an adult after another wicked King Herod refused to save him from Pontius Pilate.
Another feast day that closely follows Christmas is December 28, feast of the Holy Innocents, who died because Herod was trying to get Jesus.
Then, while still an infant in his mother's arms, Simeon would prophecy to Mary that "a sword will pierce your heart" because of this child, and she would feel its sting as she held his body once again at the foot of the cross.
The fact is that Christ came to the world to die — and, as Fulton Sheen put it, his cross cast a shadow that touched every part of his life.
Just like his master, St. Stephen died for Christmas.
Christmas is marked by two features predominantly: gift-giving, and the story of the newborn savior.
These were the same two features that marked St. Stephen's life.
St. Stephen was appointed by the apostles to distribute food to the poorer members of the community — a model of the generosity we celebrate each Christmas.
He died because he was accused of blasphemy for preaching Jesus Christ. His last words as he was stoned to death were "Lord, do not hold this sin against them."
People are dying for Christmas to this day.
Today, Christians are most often killed for the same reason St. Stephen was — it is considered blasphemy in their nations to call Christ Lord.
Last month, the Vatican issued a report that found that nearly 300 million Christians — or 1 out of every 7 of Christ's followers — live in a country where they are subject to violence, arrest, and human rights violations.
Between June 2016 to June 2018, says the report, Aid to the Church in Need found grave violations of religious freedom in 38 countries, ranging from serious discrimination to outright persecution. In 22 countries, radical Islamism was at fault. In others, "aggressive nationalism" was cited. Among the offenders were China, India, North Korea, Myanmar, Vietnam and Kyrgyzstan.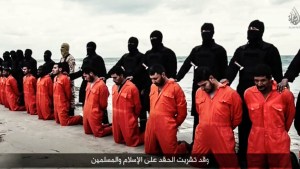 Read more:
Coptic martyrs of Libya to undergo DNA testing before burial
Today's martyrs are modern-day St. Stephens.
The lives and deaths of Christians today follow the same pattern as Stephen.
Last month, buses full of Coptic Christians were headed to a monastery in Minya, Egypt, when ISIS-affiliated militants stopped them. Seven pilgrims were killed and as many as 19 were wounded, including children.
Father Rad Noseer Mitri, a priest of Mar Girgis Church, is quoted in Aleteia responding to the attackers as Stephen did: "We would like to tell them that we still love them despite what happened. We have a question though — why are you doing this to us? We do not commit malice towards anyone."
Ultimately, the message of St. Stephen's day applies to every one of us.
The Church interrupts Christmas cheer with a message about the martyrs for a simple reason.
As the priest prays at Mass: "Grant, Lord, we pray, that we may imitate what we worship, and so learn to love even our enemies, for we celebrate the heavenly birthday of a man who knew how to pray even for his persecutors."
Remember St. Stephen today.
First, sing the carol "Good King Wenceslas." The song is about a great Christian king who goes out in harsh weather to serve the poor peasants he rules over. The king chose that day because of St. Stephen's example of service — and, like St. Stephen, the good king later died a martyr.
Second, pray to St. Stephen, St. Wenceslaus, and the modern day St. Stephens:
St. Stephen, pray for us. Good King Wenceslaus, pray for us. Coptic martyrs and all the martyrs of our day, pray for us.
Give us the grace of a faith that believes as you did in the newborn king, a hope that allows us to endure all for Jesus Christ, and a love the extends even to our enemies.
Read more:
Pope Francis: Coptic Christians killed in bus attack are "courageous martyrs"