Prayer is one more thing that must be "caught," not merely "taught."
The Word of God is one of the normal, ordinary, and effective means by which the Holy Spirit wishes to teach us to pray.
This Aleteia Series is looking at the signs from John's Gospel as concrete lessons in prayer, taught by the Holy Spirit Himself.
This is the last in the series. The Introduction and six previous Signs are linked below.
The seventh sign (John 11:1-45): You don't have to hide your prayer away
The seventh sign is by far the longest of the signs in the Gospel of John, and it is in some sense their pinnacle and summary: Christ, having already shown his mastery over matter, illness, disability, hunger, and nature, will now show his power over death itself.
The immediate context is much the same as that of the sixth sign: After having made a declaration of his divinity ("the Father and I are one"), Christ is again in danger of being stoned to death, but he and his disciples leave the area, traveling "across the Jordan" to the place "where John first baptized." However, Christ's friend Lazarus has grown gravely ill and is in danger of death, and so his sisters Mary and Martha send word to Jesus: "The one you love is ill." It is a powerful prayer of petition, at once presenting a problem (the illness of Lazarus) as well as a reason for Christ to act (his friendship with Lazarus).

Read more:
How St. Elizabeth of the Trinity taught me how to pray for others in 7 words

Yet the excellence of the sisters' petition does not move Christ to act as we would expect. He instead declares that "This illness is not to end in death, but is for the glory of God" and remains where he is for two days. John's account underscores how dramatic and unexpected this inaction is by reminding us that "Jesus loved Martha and her sister and Lazarus."
As always, we should insert ourselves into the story as the receivers of Christ's actions—or inaction, in this case. Christ continues to love us even when he does not seem to answer our prayers.
Indeed, we can even say that because he loves us, he sometimes does not answer our prayers. We may be praying for something that would not actually bring us what is truly good (e.g., my prayers to win the lottery), and so granting the prayer is incompatible with his love. Or, in other cases, Christ may desire to give us a greater good than the legitimately good thing for which we ask. He loves us more than we love ourselves.
When Christ finally does arrive in Bethany, the home of Lazarus, the man has been dead for four days. The response of both Martha and Mary is emotionally devastating, precisely because they make no accusations against Jesus. Instead they greet him, one after the other, with the same declaration of faith: "Lord, if you had been here, my brother would not have died." After having wept himself for the death of his friend, Christ commands that the stone covering the tomb be removed, and then he prays aloud: "Father, I thank you for hearing me. I know that you always hear me; but because of the crowd here I have said this, that they may believe that you sent me." It is as that point that Christ summons forth Lazarus from the tomb, having raised him from the dead.
The content of Christ's prayer offers good lessons to us: as usual, Jesus begins by invoking God as "Father," a privilege he extends to us as well in Our Father. He also begins his prayer in gratitude, another practice we would do well to imitate. God has no vanity, so we should not see this as an attempt to put the Father in a good mood so he will give us what we want. Rather, it is metaphysically fitting, a way of "putting first things first." For human beings sustained in existence by God at every single moment, the first and most important words we can say to God are always "thank you."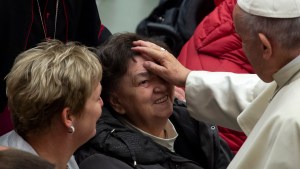 Read more:
None of us would have dared to pray like this, Francis says
However, the most urgent lesson for us may not be in the content of Christ's prayer, but in the very act of prayer itself: Christ prayed out loud to his Father in front of other people. Apparently, that is okay to do: It is okay for people to see and hear our personal prayer on occasion.
Among Catholics there can sometimes be a sort of taboo associated with audible or even visible personal prayer. There can be a sense that praying in front of others outside of the liturgy is somehow bad, something that is just not done. Perhaps this taboo is motivated by Matthew 6:5-6, in which Christ counsels us not to pray in public places in order to be more readily seen by others. He tells us instead to go to an inner room, close the door, and pray to our Father in secret. Yet these words, as is the case with all the words of Christ, must be read in the full context of the tradition. Christ could not have meant them as an absolute prohibition, since he himself sometimes prayed aloud to the Father at the raising of Lazarus and on other occasions. The point is just that the esteem of other humans should not be the motivation for prayer.
To be sure, personal prayer is usually a private, intimate act. Yet we do not always have to hide our prayer away. There may be times when people need to see and hear us pray. Such openness can even be an act of charity. One thinks immediately of praying for the sick and suffering, who find great comfort in the prayer itself, even aside from healing that may follow.
But I think also of family life. If our children never "catch Mommy and Daddy praying," how do we suppose they will arrive at a desire to pray themselves? As Scott Traynor points out, the disciples asked the Lord to "teach us to pray" precisely because they had witnessed Christ's intimate prayer to the Father, and it was from this seed that a desire to pray had grown in them.
Prayer is one more thing that must be "caught," not merely "taught."
---
Introduction- An Old Testament prefiguring of Jesus' role in our prayer: What is Jesus doing in the tabernacle? Is he like Sleeping Beauty?
First Sign- Get a prayer coach: If the Holy Spirit is your teacher, here is his textbook
Second Sign- Take time to consider the wonders God has done for and in you: What memory has to do with learning how to pray
Third Sign- Prayer has to be a part of ordinary life: Have we been putting this off for 38 years?
Fourth Sign- Take something from prayer to reflect on throughout the day: Here's why you should take a "souvenir" from prayer, and how to do it
Fifth Sign- Just make an effort; Christ will do the rest: Go ahead and pray badly
Sixth Sign- Prayer should lead to action items: The business meeting principle you need to make your prayer "work"