It's advice that doesn't make it onto the usual lists, but it can help you reduce stress and worry.
Many studies say that between 20 and 40 percent of the adult population doesn't sleep well. Let's say it's a third. There are millions and millions of people who cannot get to sleep. A study in Argentina even went so far as to say that it was 80 percent. What a calamity!
We need to find a remedy for the lack of sleep, for stress and insomnia. But where can we start if we've already tried everything?
I read all the tips, tricks and secrets that show up in wellness magazines and articles online. There are about 6 to 10 ideas that are often repeated, all of them useful and sensible, including:
having a regular schedule for going to bed and getting up,
not smoking tobacco,
for the room to be a pleasant and airy place,
for the bedroom to be different from the workplace,
for there to be no natural or artificial light in the room while you sleep,
not drinking caffeinated beverages,
not using mobile devices before going to bed or during the night,
drinking less alcohol,
reducing nap times,
doing controlled breathing exercises,
doing physical exercise regularly …
You can follow all these instructions, but … what if something still goes wrong and you just can't get to sleep?
I reviewed the lists of tips and I saw that they forgot something very important. Maybe for some of us, this missing element is the secret to radically changing our sleeping patterns and getting our rest.
I'll tell you the trick: before going to sleep, ask for forgiveness. Ask for forgiveness if during dinner you quarreled with the family; if during the day, you said harsh words to a friend or a brother or sister; if you think you may have permanently damaged a relationship after what you said this morning to a co-worker; etc.
Asking for forgiveness is a simple act and it lightens the load that we all carry. Practically speaking, how can we do this, if we're already at home, maybe even in bed?
If you live with the person you need to reconcile with, get out of bed and visit their room (or, if it's your spouse, just turn over in the bed and face them) to ask for forgiveness.
If it's somebody you don't live with, call them or send them a voice message using your app of choice to tell them how sorry you are. Even if you don't get an answer, you've done your part.
To humble yourself is to become great.Asking for forgiveness frees us. It's difficult, but it's healing. It fixes what was broken, and gives us a clearer conscience.
For a person of faith, asking for forgiveness also allows us to heal our relationship with God. If you remember to talk with God at night before going to bed, it's possible that He will remind you of whom you need to make peace with. The moment after asking for forgiveness, you will feel the calm you need to finally sleep in peace.
Read more:
10 Tips to avoid being grouchy in the morning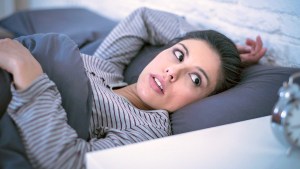 Read more:
Got insomnia? Here's a meditation for when you can't sleep