Juliette Aristides, a leader in the revival of classical realism, outlines ways anyone can learn to draw—and why it's imperative for today's society.
The table was turned, and the interviewer became the interviewee—and then the student.
As this reporter sat down with Seattle-based artist Juliette Aristides in a noisy cafe on Manhattan's upper west side, she was finishing up a week teaching at the Art Students League. So perhaps it was natural for her to give out an assignment.
"Pick something on the table," she began. "It could be the pat of butter, it could be the plate, it could be the beer bottle, it could be the knife. And don't say 'knife.' Just write what you see: 'I see metallic, I see green, I see a reflection, I see a cast shadow on a knot of wood.' Don't draw it, just use words. Just write.
"I'll set my timer for three minutes. Okay? Go."
What is the point of writing words about an object when the idea is to learn how to draw?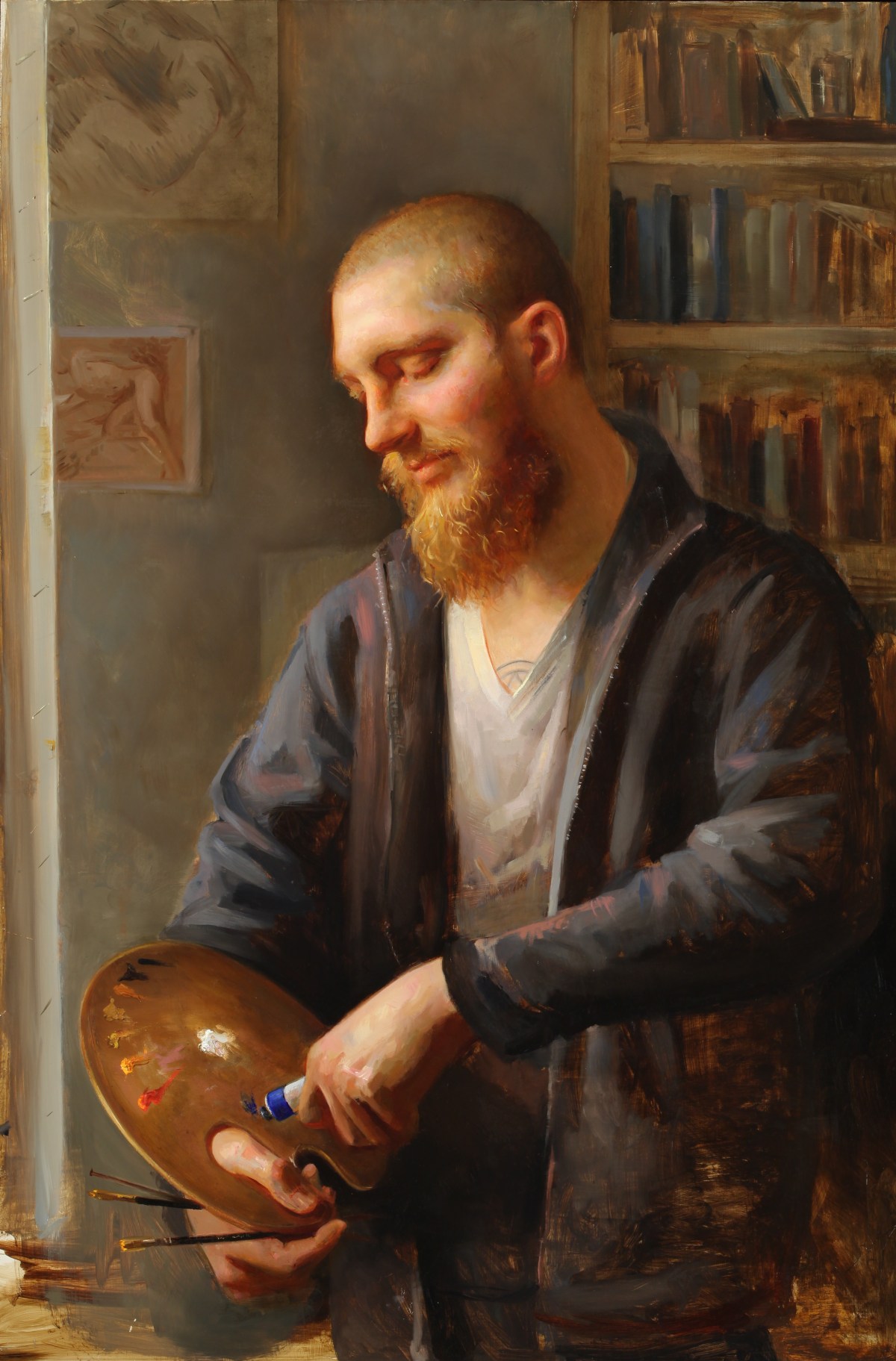 Launch the slideshow
The reporter turned to a blank page in his notebook. The music and competing voices and clinking of plates and glasses faded into the background as the three minutes wore on. And then the teacher asked for a report.
"Circle on top, clear, with lines dropping down to the bottom. Multiple geometric shapes within, silver clear with colors showing through from behind and below. Glistening with hexagonal bottom, liquid filling half the container."
How different the interview would have been had the attention been exclusively on the artist, her life and her work.
"This is something we would have walked away from and not seen at all," Aristides said of the glass of water. Why? Because in the course of everyday life we subconsciously identify objects by name within a millisecond of seeing them. "But because our attention is focused there, you begin to break down something that's instantaneous and begin to see it and experience it … So when you go home tonight, you close your eyes in bed and remember the glass. You'll suddenly be able to recall all these different aspects of your experience right now."
In a drawing class, a student might focus on such an object for much longer than three minutes. Maybe even for weeks, she said. And the student would begin to learn not primarily how to draw, but how to see.
There may be no better time to encourage such a practice and a way of thinking than now. Digital technology has become something like a tsunami, bringing people tons of information and new ways to help them connect with one another—but also sweeping a whole generation along through life with a never-ending string of images and emotion-inducing incitements to click on something different. Outside the cafe, as in many places, people walked by on Manhattan's sidewalks, staring at their smartphones. Aristides, in a way, is in a rowboat, trying to catch a few people who feel overwhelmed by that tsunami or are striving to go the other way. She might be able to save only a relatively small number, but if her 30-plus years in the art world tells us anything, we could see a growing number of teachers like her in the years ahead.
In the beginning of her career, she was part of a distinct minority, amid a universe dominated by abstractionists. She was desperate to find anyone teaching classical realism. As the years have progressed, she has witnessed a surprising revival of traditional drawing and painting and ways to teach art.
"People weren't looking at nature," she said. "It felt like the movement, art, was mostly used as a vehicle to hold a mirror to a gutted culture that felt like God died a long time ago and civilization itself was in decay, and we're angry and dissociated, and we're going to express that. But that's never been a motivation or fascination with me."
According to her website, Aristides uses her painting and drawing to understand and convey the human spirit. She studied at the Pennsylvania Academy of Fine Art, the Atelier in Minneapolis, and the National Academy in New York. She has dedicated herself to rebuilding a traditional arts education in the United States, and has seen a healthy blossoming of the atelier movement—studios where students learn according to methods of the Old Masters. She is the founder and instructor of the Aristides Atelier at the Gage Academy of Fine Art in Seattle.
The Art Renewal Center calls her a "living master," which it defines as an artist "training and inspiring the next generation of artists, scholars and teachers, to protect, preserve and perpetuate traditional techniques and training with 21st century human subject matter."
She traces her vision of art to a childhood experience in suburban Pennsylvania.
"When I was a kid, we were immigrants from South Africa, and we didn't quite fit in," she said. "I used to sneak out of the house. There were these woods, so everybody was asleep, and you've got restless energy—you're a teenager, right? … I'd be in the woods by myself at night, and you'd see the moon and the moon casts a shadow, and all of a sudden I thought, 'I've lived here my whole life and I've never seen anything.' And I felt like as a child the most true things I've ever experienced were times alone when I connected with nature … So I felt like my entire career in art has in a way been trying to get my skills strong enough to be able to say what I felt as a kid for the first time in the woods."
The sketches she did of the trees' silhouettes against a silver sky led, in time, to a search for more formal art training. But she had a hard time finding it.
"You couldn't just show up in any fine arts program and learn how to do that. This was historical art training—a relic," she recalled. "It almost felt to me that the history of representational painting, of realist painting, was fragmented. It survived little bits of it in various places."
She pored through books and searched for ways to reconstruct a knowledge of drawing that was almost entirely gone. Partly for her own edification, she began writing books just to piece those fragments together. Her titles include The Classical Drawing Atelier, The Classical Painting Atelier, Lessons in Classical Drawing, and Lessons in Classical Painting.
This coming spring, she will publish Beginning Drawing Atelier, in which she lays out a process for anybody to learn to draw. Far from taking a "highbrow" or elitist attitude, she believes anyone who can write a letter can learn to draw.
And people should learn, she insists, if for no other reason than what has become of our culture. Citing the growing number of suicides, particularly among the young, and the ongoing opioid addiction crisis, she stated, "We've got a crisis of meaning, and I think that's a beauty-related issue, because … if you look around in your own life and you see nothing of value, nothing to live for. …"
Her voice trails off amid the din of conversation at the nearby communal table. "If you're a writer like Proust or a painter or you do the exercise where you look at this glass and you say, 'Wow, if I can spend five minutes looking at that, how long would it take me to really look at anything? My life's the most extraordinary thing you can imagine.'"
She addressed many of the same issues at the "Formed in Beauty" conference of the Catholic Art Guild in Chicago in early November.
"How can we create a culture that makes people want to be a part of it? And why should we create beauty? Because many people see things in their lives that are not worth living for. They have trouble seeing beauty in their lives," she said in a talk called "Beauty as a Portal to Meaning."
"If we choose to not opt out, if we choose to engage with the sadness in our culture and create art—because art is a way to connect—it's a portal to meaning and it's a way to transform our experiences," she told the gathering. "If we don't medicate [sadness] but we try to engage, if we don't try to escape, we can transform our sorrows as if through fire.
"So if beauty is a way to gain meaning from life, it connects us to great art, it's a portal to the divine, and without it we lose the reason to get up in the morning, how can we start to cultivate more of it?" she challenged her listeners.
And why drawing? Like writing poetry or meditation, it forces people to slow down and "helps us connect to the life that is ours."
"In a way, one of the great things that drawing has to offer, aside from someone being an artist, is it's almost an affirmation of someone's actual life, not someone else's life, not like 'If I won a million dollars in the lottery I could have a better life.' It becomes What is it right here, right now, that's extraordinary and irreproducible," she said at the cafe in New York.
And it helps one to see, perhaps for the first time.
"When you're drawing, you're forced to directly have an encounter with nature," she said. "God speaks through nature. It's our best chance of awakening that spark, I think."