God doesn't need anything from us, pope reminds, as he continues with reflections on Our Father
For prayer, "it is enough to place ourselves under the gaze of God, to remember his Fatherly love," says Pope Francis, echoing the same message he gave on New Year's Day, when he reminded us that "we should let ourselves be gazed upon by Our Lady. When she gazes upon us, she does not see sinners but children."
The pope continued with this catechesis series on the Our Father, speaking about the ways we can go wrong in prayer, and what we need to do to pray well.
He said that Matthew's placement of the Our Father in the center of the Sermon on the Mount with the Beatitudes is important, because this sermon has the fundamental aspects of Christ's whole teaching condensed into a few words.
"Jesus crowns with happiness a series of categories of people that in His time – but also in ours! – were not considered much," the Holy Father explained. "Blessed are the poor, the meek, the merciful, those humble at heart… This is the revolution of the Gospel. Where there is the Gospel, there is revolution. The Gospel does not leave one quiet, it pushes us: It is revolutionary."
The great secret at the base of the Sermon on the Mount, the pope said, is being sons of the Father.
"The Christian is not one who makes an effort to be better than the others: He knows he is a sinner like the rest," Francis said. "The Christian is simply the man who pauses before the new Burning Bush, before the revelation of a God Who does not bear the enigma of an unpronounceable name, but Who asks His children to invoke Him with the name of 'Father.'"
When Jesus introduces the Lord's Prayer, he distances himself from the "hypocrites" and the "pagans."
We, too, can fall into praying like the hypocrites, the pope warned.
How often do we see the scandal of those people who go to church and stay there all day, or go every day and then live detesting others or speaking badly of people. This is a scandal! It is better not to go to church: live like that, as if you were atheist. But if you go to church, live like a son, a brother, and bear true witness, not a counter-witness.
Or like the pagans, who go on and on in prayer with "empty phrases."
I think also of many Christians who believe that praying is – pardon me – "speaking to God like a parrot." No! Prayer takes place in the heart, within…. It could even be a silent prayer, the Lord's Prayer: In the end it is enough to place oneself before God, remembering His love as a Father, and this is enough for it to be fulfilled.
Francis concluded by reminding us that God doesn't need something from us. "It is good to think that our God does not need sacrifices to win His favour! He does not need anything, our God: In prayer He asks only that we keep open a channel of communication with Him, to discover always that we are His beloved children. And He loves us so much."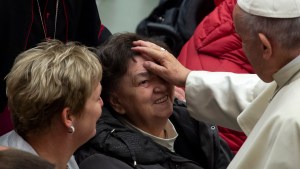 Read more:
None of us would have dared to pray like this, Francis says