The bishops are gathered in Chicago through January 8
The preacher of the pontifical household, Capuchin Father Raniero Cantalamessa, is beginning a retreat for the bishops of the United States today; both the retreat and Father Cantalamessa's direction of it are at the request of Pope Francis.
The bishops are gathered at Mundelein Seminary in Chicago for seven days of prayer, through January 8.
Father Cantalamessa will direct the retreat with the theme "He appointed Twelve, to be with Him and to Send Out to Preach," based on Mark 3:14. The bishops will have their meals in silence and have adequate time for silent reflection.
The current president of the US bishops, Houston's Cardinal Daniel DiNardo, asked the faithful to pray for the bishops during this time of prayer.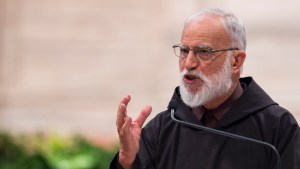 Read more:
Fr. Cantalamessa's 3rd 2018 Advent homily: No one has ever seen God
Father Cantalamessa was appointed the Preacher to the Papal Household by Pope John Paul II in 1980. He has remained in this position through the pontificates of Pope Benedict XVI and Pope Francis.
The preacher of the pontifical household is the only person who preaches to the pope; he gives a weekly reflection to the Holy Father and the Curia each Advent and Lent, and preaches at certain papal liturgies.
Read some of his homilies here.