This "adult" approach is tailored to help younger kids develop coping strategies.
We pulled into the driveway to find a big box waiting at the front door. My heart sank; I was hoping my 3-year-old wouldn't see it, but it was too late.
"Ooh, Mama, that box might be a present for me!"
"No Juniper, that box has a present for your cousin Marta. It's her birthday party on Sunday, remember? Remember how we bought her a present?"
He did remember, but it was still pretty tough for him to see me pull out a big, colorful Magna Doodle for another kid, and wrap it up again. I was expecting tantrums, but they didn't come. Instead, he started telling stories:
"Mama, when I saw that box, I thought it was a present for me! But it wasn't. I wanted it to be for me, but then it turned out it was for Marta. And I was very, very angry about that! I wanted that present a lot, and I can't have it, and I'm very disappointed about that!"
That little story was the highlight of my month, because it meant that one of my biggest ways I try to help him build emotional intelligence and resilience is working.
Emotions can be overwhelming, especially when you're three, so I've been trying to help him work through them by distilling them into little stories. A child can look at even the most emotional story somewhat objectively. A story has a beginning, middle, and an end — it's manageable and understandable.
It's the difference between a hurricane, which is scary and chaotic, and a picture of a hurricane, which is just interesting. When we tell the "story" of what difficult event happened to him, I can help him focus on what's important, and I can help him name the emotions so that he understands what he's feeling.
We do this when he gets hurt all the time, and it works like magic. I say, "Oh wow, Juniper, you were running so fast that you crashed right into the doorway! That must have hurt so much. You were so excited to show me that Lego spaceship you built that you forgot to look where your feet were going! I know it really startled you when you bumped your head."
It's a story. It helps him process what happened, why it happened, and what emotions he's feeling. Even if I can't make the bump on his head go down, the story helps with the other types of pain –i n this case, the surprise and abrupt interruption of his play. It validates the physical pain, but it doesn't focus on it. The story includes the big picture, not just the pain, but also his excitement and pride in his creation.
I'm essentially giving him the benefits of journaling (which has a huge effect on emotional processing) before he's old enough to write. Adults do same thing all the time, whether or not we're writing it down. When my husband comes home from work, I always unload all my own "stories" on him. What the day was like, how I felt about it all — he does the same to me — and we both feel a hundred times more relaxed once we've distilled the day into words.
The more I help my son tell these miniature stories, the more I notice him doing it all by himself. Now, when something bad happens (to either of us) we know what to do: condense it into a story.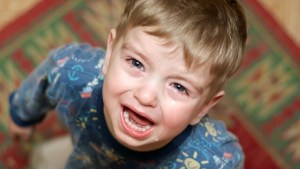 Read more:
5 Ways to stay calm when your kid is having a tantrum