A young Filipino man puts his success down to a secret kept by the recently deceased president.
With the recent passing of George H. W. Bush, we heard a lot about what the 41st U.S. president accomplished during his political career. Outside of the political arena, however, the American veteran thought beyond his country's borders, secretly sponsoring a young Filipino child named Timothy Villalba for 10 years, under the pseudonym of George Walker.
Taking the role of sponsor very seriously, Mr. Bush lent much more than financial support. Sending hand-written letters to the then-7-year-old, the president took the time to discover the child's interests. Learning that Villalba was a keen artist, Bush senior sent him art supplies, while also ensuring he was well-fed and supporting his education.
Now happily married with a three-year-old daughter, the Filipino became pen pals with the famous president through the Christian charity Compassion International. Villalba's grandmother worked for one of the charity's ministries and put her grandchildren's names down for sponsorship. Thanks to the financial aid of President Bush, the young pupil received clothing, school materials, and had food purchased for him on special occasions, such as Christmas and birthdays.
While Mr. Bush kept the details of his life vague in his correspondence, he shared the essentials: "I am an old man, 77 years old, but I love kids; and though we have not met, I love you already," he wrote in his first letter back in 2002. The true identity of his famous sponsor was only revealed to Villalba once he graduated at the age of 17. Not truly believing the story, he put it to the back of his mind until recently.
It was only when the president died and the media showed an interest that Villalba truly understood the significance of George H.W. Bush's gesture. Speaking to ABS-CBN News, the young father said, "It was shocking that he was indeed a president. I can't explain how I'm feeling."
Villalba attributes his own success to the charity of the famous grandfather and considers himself very lucky. A musician by night, and barangay secretary (a governmental administrative secretary) by day, the villager from Escopa 4 in Quezon City is happy. He hopes his story will encourage others to join sponsorship programs to give other children a chance of success.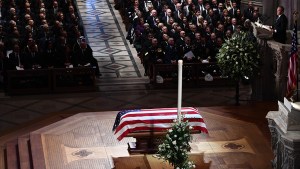 Read more:
Pope sends condolences and prayers at passing of President Bush