Let's aim for conversion. Here's how
Are you a "resolutionary"? Are you one of the many who makes a long list of New Year's resolutions, tries for a couple of weeks, and then falls back into old patterns? (Me too.) Have you tightened your fist, pounded the table and declared, "This time it's going to be different!," and then it isn't? (Me too.)
Perhaps it's good that we fail at our New Year's resolutions. It may be praiseworthy to lose weight, get more organized, etc., but what if we're planning to invest ourselves in laudable goals for unworthy reasons? What if we want to lose weight, not for the sake of health, but for the sake of vanity? Would it be good if we succeeded? What if we wanted to become more organized so that we could become more efficient occupants of the hamster wheel of production and consumption? Would we really attain new heights if we succeeded?
Yes, we sinners living in a fallen world are in constant need of reform. And, yes, the start of a new calendar year can be a propitious time to undertake such reforms. But we've failed so often, and I think we would fail even if we succeeded, so let's try something different this year. Let's make a reasonable, faith-illuminated effort to order our life, for the sake of the ultimate goal of our lives.
Readers familiar with Jesuit spirituality know I'm referring to the First Principle and Foundation of the Spiritual Exercises of Saint Ignatius Loyola. The beginning may be familiar:
Man is created to praise, reverence, and serve God our Lord, and by this means to save his soul.
What's really good is what's good for my salvation. How to live that? We have to read the rest of the Principle, so often overlooked:
And the other things on the face of the earth are created for man and that they may help him in prosecuting the end for which he is created. From this it follows that man is to use them as much as they help him on to his end, and ought to rid himself of them so far as they hinder him as to it. For this it is necessary to make ourselves indifferent to all created things in all that is allowed to the choice of our free will and is not prohibited to it; so that, on our part, we want not health rather than sickness, riches rather than poverty, honor rather than dishonor, long rather than short life, and so in all the rest; desiring and choosing only what is most conducive for us to the end for which we are created.
The First Principle and Foundation, rightly understood, guides us to rightly value what is rightly valuable, to rightly desire what is rightly desirable, and to arrange our lives for the good of our neighbor, the salvation of our soul, and the greater glory of God. The problem for many Christians, myself included, is that our lives have become so cluttered with junk, distractions and overall disorder that we can't act in harmony with the First Principle and Foundation.
What to do?
Let's turn to the practical wisdom of a great Jesuit, the late Father John Hardon. He had a gift for identifying the essential truths of the Faith and expressing them in a way that made them livable. Consider this sage advice about dealing with clutter and distractions:
As with my recurrent Spiritual Exercises, I divide the various creatures in my life into four distinct categories: those creatures who are to be enjoyed; those who are to be endured (tolerated); those who are to be removed; and those who are to be sacrificed (thereby giving up a lesser good for a greater good, or a lower good for a higher good).
An honest survey of our lives in light of Father Hardon's four categories would be a great way to get 2019 off to a good start. Walking through our homes and businesses, one room at a time, and labelling what we see as "to be enjoyed," "to be endured," "to be removed," or "to be sacrificed" would be a good first step to spiritual freedom, peace and joy. The obvious challenge will be to apply the labels honestly, especially to that which should be removed or sacrificed. The less obvious challenge may be to slow down and simplify our lives so that we could really enjoy, really savor what should be enjoyed, rather than merely used or consumed.
Following the wisdom of Saint Ignatius Loyola and Father Hardon, we can move from mere resolution to concrete conversion.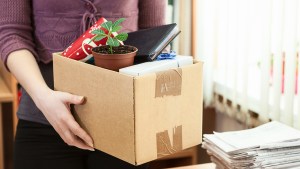 Read more:
Overwhelmed by clutter? 5 ways to get a more minimalist mindset
When I write next, I will speak of an under-appreciated spiritual practice that could be an instrument of blessing for you for years to come. Until then, let's keep each other in prayer.