The key is trust in God and distrust in self.
Our spiritual life naturally entails a certain "spiritual combat," whereby we engage in battle against the dark spiritual forces of this world.
St. Paul put it clearly in his letter to the Ephesians, "For we are not contending against flesh and blood, but against the principalities, against the powers, against the world rulers of this present darkness, against the spiritual hosts of wickedness in the heavenly places" (Ephesians 6:12).
However, it's not always easy to know how to engage in this spiritual fight.
Italian priest Fr. Lorenzo Scupoli sought to address this problem in his spiritual classic The Spiritual Combat, published in 1589. In it, he begins by explaining the first two weapons needed in our ongoing spiritual war.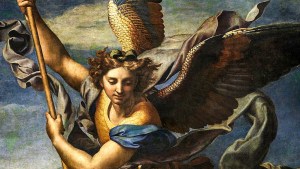 Read more:
Pray this St. Michael prayer for personal protection


Read more:
How to Beat the Devil:  Advice from Rome's Chief Exorcist