Father Ukken died in 1956 and Antonietta Giugliano in 1960.
At the end of 2018, Pope Francis recognized the "heroic virtue" of nine men and three women, meaning these people now have the title Venerable. Among them are Augustine John Ukken, from India, and Antonietta Giugliano, from New York.
Venerable Augustine John Ukken
Augustine John Ukken was born on December 19, 1880, in Parappur, located in the state of Kerala in India. Augustine was the second son born to Punnapar and Chalaki Ukken. Sadly, both of his parents died when he was only six years old. The boy was taken in by the parish priest who provided him with a home and an education.
In 1895, based on the recommendations of his priest and mentor (name unknown), Bishop Adolphus Mediycott had Augustine enrolled in the minor seminary in Trichur. Upon completing his studies there he moved Kandy, in Sri Lanka, to begin his study for the priesthood. He was ordained a priest by Bishop Clement Pagany on December 21, 1907.
Father Ukken was assigned to St. Thomas College in Thrissur, where he taught French and Latin from 1908 to 1909. In 1910 he became the Rector of the Minor Seminary and remained at that post, also serving as Secretary to Archbishop John Manachery, from 1913 until 1917. At that point, he was assigned to assist at different parishes doing the work of a parish priest. In 1921 he was named as the Manager of St. Thomas College and remained in that post until 1925.
From 1925 and on, Father Augustine spent time in different parishes getting deeply involved with the poor and starving people and children. Inspired by St. Vincent de Paul, he prayed for guidance so he might help them. On November 21, 1944, he founded the Congregation of the Sisters of Charity.
The mission of the new order was the "caring of the sick, tending those who are in deathbed, uplifting the poor and giving catechetical formation." The new order was approved by the Metropolitan Archbishop of Thrissur, George Alapatt.
Father Augustine John Ukken passed away on October 13, 1956. He was 75. He was declared a Servant of God on August 24, 2008, and on December 22, 2018, declared Venerable.
Venerable Augustine John Ukken, please pray for us.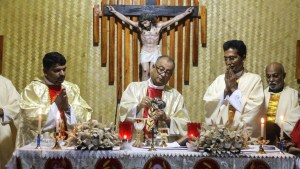 Read more:
The Church in northeastern India has grown in surprising ways
Venerable Antonietta Giugliano
Antonietta Giugliano was born in New York in 1909 and moved to Italy (probably as a child, but there is no definite date). Trained under Venerable Sosio Del Prete, a Franciscan priest, Antonietta began the Institute of the Little Servants of Christ the King in Naples.
She had wanted to start a group that would offer a Christian response to humanitarian emergencies in the area and in 1935 she started the Little Servants of Christ the King. The purpose was to assist the elderly, educate children, and acquire needed items for the poor, such as clothing and food and medical supplies.
Antonietta gave most of what she and her family had to the needy. A woman who possessed a deep humility, she spent the rest of her life fighting severe pain and illness, yet never wavering in her mission to help those in need.
Antonietta passed away in Naples in 1960. She was 51. She left behind as her  legacy the order she had founded plus a reputation as a woman of great holiness. The cause for her elevation to sainthood began in 2006. 
Venerable Antonietta Giugliano, please pray for us.
Read more:
List of Saints from the United States of America