One man's efforts to end loneliness among senior citizens will put a smile on your face.
When 32-year-old Mike Niles was assessing his career in the city he realized his job, although well-paid, just "wasn't ticking all the boxes." As he shares in this BBC Amazing Humans series, he was looking for something more, so he became friendly with an elderly neighbor, which spurred him to eventually make the life-changing decision to leave London and return home and set up a charity. His friends thought he was crazy.
While living back with his parents, he set up a the charity B:Friend, an organization that matches volunteers, or "befrienders," with isolated elderly members of society. The befriender visits their match for one hour a week to chat over a drink.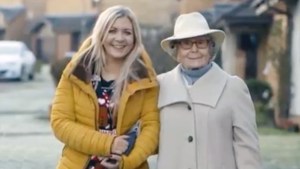 Read more:
Watch how this 96-year-old woman is helping to end loneliness among the elderly (VIDEO)
As Niles points out, loneliness can be crippling, so his network helps volunteers "be there" for the all too often neglected elderly generation. The results are both effective and heart-warming. Just watch the video to see the look of joy on these seniors' faces. As for Niles, he says it's "the best job I've ever had."