In message to Church leaders, encourages methods that will address specific issues of continent
Faced with the challenges of today's world, it's necessary to find "new ways and methods" of announcing the Gospel, said Pope Francis in a message to the participants at a meeting of presidents of the doctrinal commissions of the episcopal conferences of Asia, published on January 15 by the Holy See.
This meeting, being held from January 15 to 18 in Bangkok (Thailand), said the pope, is an opportunity to "reaffirm our common responsibility for the unity and integrity of the Catholic faith."
This is very necessary because Asia is a "vast continent marked by religious, linguistic and cultural diversity." Thus, this meeting needs to address "concerns of the Gospel that are specific and relevant to Asia."
These doctrinal commissions, Peter's Successor said, "assist and foster the effective and fraternal cooperation among the Pastors of the Church in Asia."
The Congregation for the Doctrine of the Faith, the pope said, "is actively supporting" their work. A delegation of the Dicastery, headed by Cardinal Luis Ladaria Ferrer, is also present at the meeting in Bangkok.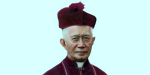 Read more:
This Filipino bishop believed God's Word should be proclaimed from the rooftops