I took the next step and it's made all the difference.
What can God do in your life with one Bible verse a day?
Subscribe to Aleteia's new service and bring Scripture into your morning:
Just one verse each day.
Click to bring God's word to your inbox
It's a new year — and time for a new minimalist you! Have you Netflix-binged Tidying Up with Marie Kondo yet? Or re-watched that documentary on minimalism? Or at least obsessively watched as many Youtube videos about people who own tiny spotless houses as you can?
I love the idea of minimalism and living simply and I was fascinated by Minimalism: A Documentary on the Important Things. And while I've not binged Tidying Up yet, I watched the trailer while trying to muster the courage to walk away from Netflix to fulfill my New Year's resolution of reading actual paper books when I have downtime.
The whole idea of having less stuff, simplifying your life, and focusing on what's important sounds beautiful in theory. And usually after I watch a few minimalist videos, I do a quick purge and get rid of a couple bins of stuff: clothes, an extra blanket or two, some books, and some canned goods. But then, that's where it ends for me. I feel good in the moment, and then I move on with my life. Eventually, I end up at Target or World Market or a thrift store in the next couple of months and end up replacing everything I got rid of.
But last year I read a book called Happy Are You Poor that finally made minimalism stick for me. The book is essentially a call to get rid of the excess stuff in your life. But the reason the author gives for getting rid of your extra possessions is not just to achieve happiness or a better quality of life — although this can happen along the way. Instead, the reason is that the more stuff you have, and the more attached to it that you are, the less you can focus on God and living for others. On top of that, he lays out what he calls a "sparing-sharing" lifestyle, where the goal is to live simply, only buy necessities, and then give away as much money as you can to those in need.
After reading the book, I had the motivation I needed to change the way I buy things. Instead of occasional purges and then splurges, it's helped me to both declutter consistently and buy fewer things in the first place. I've also focused on how to include the sharing part in my life, finding places where I can save money so that I can give money. I ask myself questions like: What do I really need for "entertainment"? Can I eat rice and beans for a few meals every week, and avoid prepackaged (read: expensive) foods, to spend less on my grocery budget overall? While that little vase and tablecloth set is adorable, AND 75% OFF, do I really need more decorations in my home?
And then, after seeing what money that leaves in the budget, I have to make active decisions like: Who needs this money more than I do? What are things that I can buy and have in my car to give to the homeless people I drive by? (It's gift cards and socks by the way.) It feels more concrete and relational to buy food items for a soup kitchen or to physically hand Brent, who lives under the bridge, a new sleeping bag than it is to donate online, so I try to do that whenever possible
This approach of the sparing-sharing lifestyle has made all the difference for making living simply take root in my life. Instead of just giving up things I've already bought, I have to work actively to live simply so that I can give more to people who need it. And boy, do I get so caught up in focusing on my own quality of life that it becomes easy to ignore the people who need food and shelter around me. This lifestyle decision forces me to open my eyes at every purchase to those whose needs are much greater than my own.
Now, I still own things. I haven't ditched many books, for example. And I know that I'm called to hospitality so I've kept big dishes and extra place settings to make that happen. But I'm also trying to change my attitude towards what I still do own. If someone were to need something I have more than me, I want to be easily able to give it up.
The things in life that matter in the end are not how much enjoyment I get out of my smartphone, or my treasured copies of my favorite books, or the comfort of the best blanket ever created, but instead the time I spend with God and others is what will matter at the end of my life. And the less caught up in shopping, acquiring, and taking care of the stuff that I have, the more time I can spend interacting with the people whose lives are infinitely more valuable than any beautiful thing I could ever own.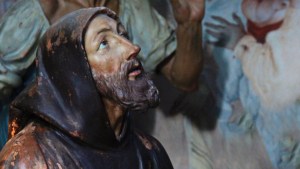 Read more:
3 Lessons about minimalism from St. Francis of Assisi