Facilities for liturgies already being prepared.
The Polish archbishop who was sent by Pope Francis to study the pastoral situation of Medjugorje says that the shrine is being expanded to better accommodate the liturgical celebrations there.
Archbishop Henryk Hoser told the Sarajevo Times that the number of visitors to the shrine is itself an "important argument in favor of Medjugorje."
Read more:
Archbishop Henryk Hoser to Aleteia: We should not be worried about Medjugorje!
"We see the number of pilgrims increasing, and not only that pilgrims come from all over the world, but, after their return home, they do everything to keep on living in the spirit they have discovered here in Medjugorje," Archbishop Hoser said.
The prelate said architects are already preparing the expansion project, which will extend the space for liturgical celebrations, with plans to facilitate climatic controls to keep it cool in summer and warm in winter.
Speaking on the expansion of the shrine, he said that a group of architects is already preparing the project.
"The open square, the outer altar space, do not protect the people who participate in the liturgical celebrations," he explained.
Archbishop Hoser's mission to the site was not to consider the veracity of the apparitions, which allegedly began in 1981, but to evaluate whether the pastoral needs of pilgrims were being met.
The Church has not given a final verdict on the apparitions.
In 2010 the Holy See appointed a special doctrinal commission led by His Eminence Cardinal Camillo Ruini. In 2014 the commission concluded its operation and submitted its conclusions to the Holy Father. He subsequently forwarded the case to the Congregation for the Doctrine of the Faith. To date, the Congregation has not adopted its final position.
Pope Francis has expressed doubts about the apparitions, and there is the possibility that only a certain number of the alleged apparitions will be declared worthy of belief.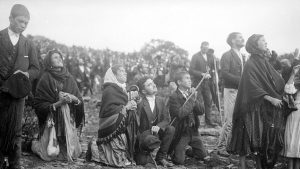 Read more:
These apparitions were officially approved by the Holy See as "worthy of belief"
Read more:
Pope Francis: "There's grace in Medjugorje. There's no denying it; people are having conversions."