She was only 6 or 7, but she had an experience that fashioned her into the most loving, young-at-heart person I've ever known.
The Feast of the Baptism of Our Lord this past Sunday can invigorate our entire 2019 because it is a day to recognize and celebrate the grace of accepted love from God.
Even Christ himself had the overwhelming experience of accepting this great grace as he rose from the baptismal waters and: "a voice came from Heaven. 'You are my Son, whom I love; with you I am well pleased.'"
How powerfully this experience must have resonated in the profound heart of Jesus; how deeply he must have meditated upon it as he spent his 40 days in the desert. And Jesus goes on to tell us: "As the Father has loved me, so I have loved you."
But it can be hard to fully accept this divine love when human moments of self-hatred or self-absorption get in the way. Here is a wonderful question to ponder in our hearts: Can you recall a moment when you felt totally, beautifully overcome with a sudden awareness of God loving you?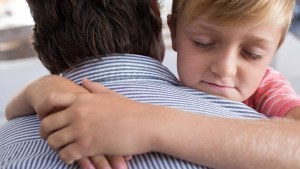 Read more:
"It seems that our God wants to sing us a lullaby": Pope Francis on the tenderness of God
The defining moment of my 101-year-old grandmother Annabelle Black's life was the day she first felt God loving her. In my grandmother's own words:
When I was about six or seven, we had a wonderful Christmas; I had been given what I most wanted: a baby doll and a doll carriage. But we had a very bad winter so I could never take the doll carriage out because the weather was bad. Finally, one beautiful day in the spring, my mother said, "You can take the carriage out."

I remember this so well: I can recall her taking the carriage down the steps and straightening the carriage's satin cover with the clip on it. I remember starting to walk down the street. I was always cold when I was little, and this day, I felt the sun warming me. I heard the jaunty bell of the junkman's horse and carriage coming down the street. I walked along with my doll carriage with such pure joy that I have never felt again in my life.

Many years later, I read a book written by a Jesuit about seeing God in all things. He told the story of a woman gardening, with the dirt in her hands and the sun warming her; and how she suddenly became aware of a different, overwhelming feeling that had never come over her before: of security, of beauty. I remembered that unique feeling from when I was a girl, that day with my doll carriage. I told my brother, a Jesuit priest, and he said, "You know what that feeling was? That was God loving you."

He went on to say that such a feeling takes you by surprise; it is something you can recognize but not orchestrate. C.S. Lewis called this feeling being "surprised by joy."
Sometimes it takes childlike innocence to fully accept God's love. But like my grandmother, if we can truly, completely accept the love God has for us, we will also become younger at heart, less bogged down by bitterness or anxiety.
It is no wonder my grandmother's favorite song, the one we played at her 100th birthday party, was Frank Sinatra's "Young at Heart." It's such a fitting song for her as it reflects the way she lived. In many ways, she was not only the wisest but the youngest heart I've ever known: quick to laugh, fun to be with, and always full of life and agapic love.
And all, I assert, because from a very early age she fully and unreservedly accepted the gift of God's love for her. She kept that childlike heart of hope all her days.
With the beginning of Ordinary Time this week we truly start our Catholic New Year. So how do we want to live in this new year? How might we allow our awareness of God's love for us to overtake and navigate our lives?
Let us recognize and celebrate the grace-filled moments of feeling God loving us. It is this grace of accepted love that enables us to be the most loving, just like my grandmother, and faith-teacher, Annabelle Black.
Read more:
Simple advice from Benedict XVI on how to be a better mom or dad