"God has equipped us for great works," said the veteran New Orleans quarterback.

It's been an exciting year for Drew Brees, the veteran quarterback and the leading force behind the Saints' 2019 bid for the Super Bowl. Back in October, he broke the NFL all-time passing record, overcoming Peyton Manning, and now the Saints are preparing for the final hurdle before making it to the big game: The Los Angeles Rams.

Brees is in his 12th year with the Saints, after having spent five years with the San Diego Chargers. In that time he has led a revitalized a team in a city that needed it most. He came to the Saints after Hurricane Katrina devastated the town and was in desperate need of hope, but at the time Brees needed the same.

At the end of his fifth season with the Chargers — just as his contract expired — Brees was injured with a dislocated shoulder. With one of the worst injuries quarterbacks can face, as they rely on their arm's rotation to throw the ball, Brees suddenly found his whole career in question. In

, Brees explained his outlook changed as he listened to his heart and God's guidance:
"My wife and I were taking a visit to New Orleans. It was six months post Hurricane Katrina we were looking at the sheer devastation and just saying 'I'm not gonna trust what I see with my eyes here, because my eyes are telling me not to come here. And yet my heart, my soul, the Lord is telling me that this is our calling. It's not just about coming to play football and be a part of the resurgence of a football team, but it's about the resurrection and rebirth of a city and we can be a part of that.'"
Brees' leadership and skill in his position helped lead the team to their first-ever Super Bowl victory in 2009 and his presence has helped keep them in contention ever since.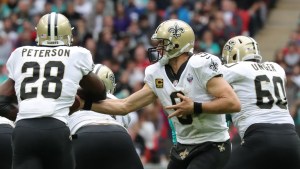 Read more:
Song of faith and jazz: How the New Orleans Saints got their name
After Brees broke the all-time passing record, fans were touched when he took a moment with his family on the sidelines. He said in a later interview what he told his children:
"It's probably what I tell them every night before they go to bed, which is, you can accomplish anything in life if you're willing to work for it. Nothing is given. Everything is earned. God has equipped us for great works. I tell them that every night."
.@saltersl asked @drewbrees if he remembers what he said to his kids after breaking the record.

"It's probably what I tell them every night before they go to bed, which is … you can accomplish anything in life if you're willing to work for it." pic.twitter.com/boub15kcOh

— ESPN (@espn) October 9, 2018
Brees has never been shy about sharing his faith. In 2015, during a long

, he told a large audience:
"With Jesus in my heart and in my life, I'm not afraid of the unknown, I'm not afraid to go to Purdue. I'm not afraid of dropping in the second round and being drafted by the San Diego Chargers. I know that God has that plan and I'm going to trust Him. I'll be led by faith and not by sight, 2 Corinthians 5:7."