Start your day by reminding yourself of the war that surrounds you.
Whether we realize it or not, we are in the midst of a spiritual battle. There are countless spiritual enemies trying to bring us down.
It can be a difficult battle to fight, but one of the keys to success is beginning the day in the right way.
Italian priest Fr. Lorenzo Scupoli gave powerful advice in this regard in his spiritual classic The Spiritual Combat, published in 1589. In it, he offers a rousing morning meditation that will get you in the mood to fight boldly against the evil forces in this world.
On awaking in the morning … picture to yourself, on one side, your enemy (that evil inclination which you are already pledged to conquer) now standing before you, ready armed to wound and slay you; see also, on the right hand, your victorious Captain Jesus Christ, with His most holy Mother the Virgin Mary, and her beloved spouse Saint Joseph, and innumerable hosts of angels, especially Saint Michael the archangel; and, on the left hand, the infernal demon, with all his armies, ready to excite this passion and to persuade you to yield to it.
Scupoli then goes on to give a speech that he says would be given by your guardian angel.
You are to fight this day against this and other enemies of yours. Let not your heart fail, nor your spirit faint. Yield not on any account, neither for fear nor any other cause; for our Lord, your Leader, stands beside you with all His glorious hosts, and will do battle for you against all your enemies and will not suffer their form to prevail against you or to overcome you.Fight valiantly then, and be not loathe to suffer; for it is this toilsome resistance to your evil inclinations, this painful struggle against evil habits, which shall gain you the victory, and win for you a treasure wherewith to purchase the kingdom of heaven, and unite your soul to God for ever.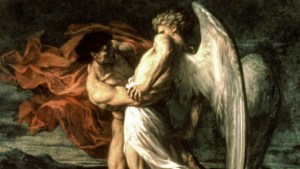 Read more:
The first two weapons in spiritual combat