He helped the family find material assistance to face their difficulties and choose life.
Thousands of people on the internet have shared the photo of British seminarian David Donaghue, of the diocese of Northampton, carrying a baby in his arms.
It's a baby that he personally saved from being aborted.
One of the ministries that David carries out in the United Kingdom is distributing informational leaflets and talking with people in front of abortion clinics, explaining the value and sublime beauty of human life, seeking to counteract the torrent of lies and ideological manipulation that floods today's society in support of a throw-away culture.
On the day David saved that life, the mother of that baby — whom we now see full of life in the photo — was inside the clinic scheduling to have her little unborn boy aborted. Meanwhile, the baby's father stopped to talk with David.
The situation wasn't unusual: the family was poor, and already had two children. Moved by abortionist propaganda, they'd made the difficult decision to request an abortion, thinking that it would be the right solution. After an honest and open conversation with the seminarian, the father changed his mind about the abortion, and convinced his wife to go forward with the pregnancy, embracing the gift of life.
David also obtained material assistance for the couple; a pro-life organization is now paying the family's rent. In the end, the culture of life needs to go hand in hand with a culture of encounter, of welcoming and of solidarity, in order to avoid falling into hypocrisy.
David Donaghue was recently ordained to the diaconate. Let us pray for him and for all priests and seminarians, that they may be effective proponents of a culture of life.
Read more:
What is meant by the term "Culture of Life"?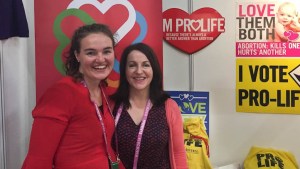 Read more:
Irish pro-life organizations seek to build-up a new culture of life