A quick-thinking bus driver stops her bus to bring the baby to safety.
Footage from a recent surveillance video showed how bus driver Irena Ivic from Milwaukee, rescued a young boy toddling down a freeway overpass on a cold December morning. In the short footage released by Milwaukee County Transit System, we can see the driver's initial shock and disbelief of witnessing the little boy — who isn't even a year old — running barefoot down the road in just his red onesie in temperatures below freezing.
Luckily for the boy, and all of us watching the film in disbelief, Ivic reacted quickly. She stopped her bus and ran across the road to grab him and bring him to safety. Visibly shocked, the driver returned to her bus and held the little boy closely in her arms, while a kind passenger brought up her coat to wrap the baby in. The baby nodded off to sleep by the time the authorities arrived. Although there are no details, the police returned the baby to his dad after discovering his mother had left him outside.
After watching the video you'll be breathing a sigh of relief and perhaps checking in on your own little ones!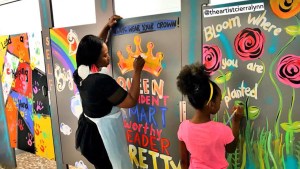 Read more:
This artistic mom is inspiring students … in the school bathroom