Laziness is a habit that is not always easy to break.
All of us would rather avoid doing what we need to do, and sit down and watch TV or surf the internet, putting off our obligations for another time.
Unfortunately when we give into this temptation, too often our obligations get put off indefinitely, and work at home or at the office never gets done.
The good news is that with God's grace, we can overcome our laziness and be a good steward of the time God has given us.
Italian priest Fr. Lorenzo Scupoli gave his advice in his spiritual classic The Spiritual Combat, published in 1589. He explains how laziness and sloth need to be addressed immediately, otherwise the person will find themselves on a slippery slope.
Read more:
Simple remedies that combat a slothful spirit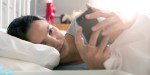 Read more:
This is one of the worst things you can do right after waking up