We celebrate Martin Luther King Jr. Day on January 21, and we pray that his "dream" will become our reality.
I tend to be an optimist by nature. When it comes to racism in America, I like to think in terms of how far we've come rather than of how far we need to go. I like to focus on the fact that we've had a black president whose children played on the White House lawn. I also like to think of Martin Luther King Jr. and Rosa Parks and the countless, often nameless, civil rights activists who have and still do work for all people to be treated with dignity and respect.
So last summer, when my social media threads revolved around the Black Lives Matter movement, and with athletes kneeling during the National Anthem, my "glass half full" perspective left me lacking in empathy. "Don't they see how far we've come?" I wondered.
It's funny how a personal experience can broaden, and even change, one's perspective. And that's what happened to me not long ago. I would have found this incident hard to believe if it hadn't happened to me.
It was an otherwise ordinary day and I had pulled into a gas station in my small town. Immediately, I noticed the two white children in the parked car in front of me. They were holding up their middle fingers and yelling at a distinguished-looking black man who was also pumping gas nearby.
"Ni**er!" they screamed again and again. "Kill the ni**er!!!" They made motions like they were choking their own necks, "Kill him!"
I was horrified. I stepped out of my car and was opening my mouth to correct them, when the man they were harassing motioned to me. His eyes were wide, and he shook his head clearly from side-to-side. Instinctively, I knew that he was asking me not to intervene. At the very same moment, a man and woman — presumably the children's parents — stepped out of the mini mart. They were both muscular with shaved heads (including the mother). They heard their children yelling threats, and rather than correct them they looked at the man pumping gas and laughed along. All the while, I stood there shocked, scared silent, a reaction profoundly atypical for me.
"Why didn't you tell them off?" my mild-mannered husband roared when I relayed what had happened when I arrived home.
It took me a few seconds to answer him. My head was spinning as I was grappling to understand the experience myself.
"I was all alone," I said, remembering the look of pride in the dad's eyes when his son screamed racial slur. "You should have seen them," I stammered, embarrassed and ashamed of my inaction, but at the same time defensive of it. "It's like they wanted a fight."
"Still," my husband continued, "you shoulda' said . . .", and a litany of possible responses followed.
I stood at my kitchen counter, nodding, agreeing with everything he said as our children hovered nearby, asking questions about racism, questions that were hard for me to answer. I remember flopping on the couch after that talk, upset and exhausted. Sure, my husband's suggestions made sense in theory, but back there at the gas station, in the heat of the moment, when confronted by the ugliness of racism, no truths about racial equality came to mind. No classic MLK line about how "a man should be judged not by the color of his skin, but by the content of his character" rolled off my tongue. Because I was terrified. I just wanted to get home safely and take care of my kids.
I thought about the man the two children were harassing. He had forced a smile as he purposefully crossed my path. "Just ignore them," he said in a gentle manner, as if he were concerned about me. "That's the best way."
Maybe this generous soul felt as scared as I did, but he handled it much better, probably because he'd been through a similar incident before. Regardless, I've never experienced a moment where I was as acutely aware that because of who I am physically — a white woman with no upper body strength — I'd be putting myself in danger for speaking up for what's right. I can only imagine how much more frightening that experience was for the actual victim, the man who was targeted by this ignorance and hatred.
I breathed a sigh of relief when the man drove away without further incident. He was so cool-headed and calm. I imagined he had business to attend to and wanted to avoid any altercations. More likely, he has learned that defending himself in these situations lands on deaf ears and can risk personal harm. But his ability to cope, and to protect me while he was at it, doesn't mean he didn't feel threatened. No doubt he felt the bitter hatred of racism still alive and well more than 50 years after Martin Luther King's famous speech. I know I sure did.
Prayer for the Elimination of Racism by The Sisters of Mercy
Good and gracious God, you invite us to recognize and reverence your divine image and likeness in our neighbor.  Enable us to see the reality of racism and free us to challenge and uproot it from our society, our world and ourselves.  Amen.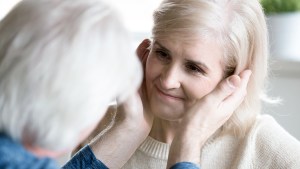 Read more:
6 Ways we can help protect human dignity