His son and grandchildren were there for his ordination.
Speaking to the Italian television network TV2000, a recently ordained Italian priest named Giuseppe Mangano said, "Our Lord called me many times. I always say, joking, that the Lord called me, that he grabbed me by the hair, but I ran away."
When he says he "ran away," he's referring to the fact that in his youth, Giuseppe studied in the seminary, but then felt called to matrimony. He got married, became a father, had grandchildren, and eventually was widowed. It was then that the call sounded again in his heart.
Last September, he was ordained to the priesthood at the age of 71. Deeply moved, during his first Mass he made point of remembering his love for his wife, who had already departed to the Father's house.
"She died 10 years ago. She encouraged me to become a deacon, but she died before I was ordained. She had already been sick for a long time, and when she was dying, she also told me that I could become a priest. Then, I asked the archbishop to help me discern."
Fr. Giuseppe is speaking of Archbishop Matteo Zuppi of Bologna, who, after accompanying him on his spiritual journey, approved the widower's ordination to the priesthood.
This father-grandfather-priest's ordination was witnessed his son Francesco and his wife and Giuseppe's grandchildren, Francesca (15 years old) and Vasco and Giuseppe (10 years old), her younger twin brothers .
"Now, only I'm only missing one sacrament."
Fr. Giuseppe is a man who has been filled with spiritual blessings. Of the seven sacraments, he points out with good humor, the only one he hasn't received is Anointing of the Sick. And this is practically the fulfillment of a prophecy, he says; "30 years ago, my spiritual director told me that I would receive all seven sacraments."
Let us ask God to indeed grant Fr. Giuseppe the grace of leaving this life well prepared through the sacrament of Anointing of the Sick — but let's he's in no rush to check that off his list. May God grant long and fruitful life to this father-grandfather-priest!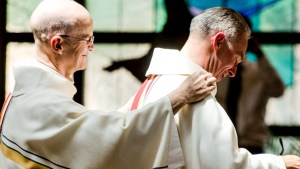 Read more:
What are deacons and what separates them from priests?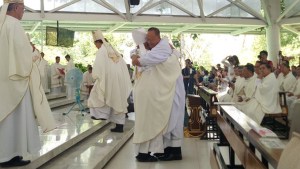 Read more:
Filipino widower with 3 kids ordained a priest