This is the story of a family searching for a brighter future.
Reinaldo Perger is now in Bella Vista, Gran Buenos Aires (Argentina), waiting for his son's birth. A few months ago, he would never have imagined being in Argentina this soon, much less with a baby on the way. Now, his family's story has gone viral.
Due to the humanitarian crisis in Venezuela, Perger's girlfriend Fabiola Navarro had gone to Argentina last June, with a bus ticket paid for by her parents, who had been living in Argentina for months. "In Venezuela, you buy food, or you buy shampoo; you decide. My family preferred selling everything rather than die of hunger," Fabiola told Infobae.
The situation in Caracas was so bad, Fabiola and Reinaldo's combined salaries were barely enough for them to have enough food, and they had to limit themselves to vegetables because meat was too expensive, Reinaldo explained to the same news outlet. The plan was for Fabiola to get a job after arriving in Argentina and save up enough money to pay for Reinaldo's ticket to join her. She emigrated without suspecting she was carrying a life in her womb.
Only after arriving in Argentina did she realize she was a few weeks pregnant. When she told Reinaldo, he didn't hesitate to move up his plans and do the impossible to arrive in Argentina to be with her.
The voyage
Walking for more than a month, crossing more than 5,000 miles? Reinaldo saw no other option. The dramatic situation in Venezuela made it impossible for him to save up for the trip, and his girlfriend's family had already sold all their belongings, everything they'd built in a lifetime, in order to be able to leave the country themselves and bring Fabiola later. There just weren't any more resources available.
Reinaldo left Venezuela on foot, crossing through Colombia. It was just the beginning of his journey, which followed the footsteps of thousands of other Venezuelans who had already crossed Ecuador, Peru, and Bolivia on the way to Argentina. Although the route is a bit longer than the one that goes through Brazil, the shared language and the availability of more stops along the way make it more feasible for those obliged to participate in the exodus. He traveled on foot and hitchhiked, looking for rides with friendly strangers who helped bring him closer to his beloved.
In Peru, he found a temporary job on a fishing excursion and with that earned a few pesos,  managing to reach northern Argentina by Christmas. There, a generous woman heard his story and bought him a ticket to his final destination, the capital of Argentina. There, Fabiola was waiting for him, and he moved in with her and her family in Bella Vista, a few miles from the capital.
In the coming weeks, Matías will be born: a child who is the fruit of two families who left everything behind in Venezuela. Fabiola's family, like thousands of others, left behind not only their country, but their careers, property (devaluated by the crisis), Fabiola's university studies — everything. Reinaldo left without any GPS, without even money to buy a bus ticket, with only his love for his unborn son. Now, they have hope for the future, and are planning to get married as soon as possible.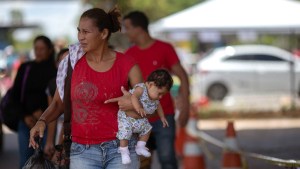 Read more:
No end in sight for the exodus from Venezuela
Read more:
Thousands of Venezuelans cross the border into Colombia each day