You don't have to be crafty or artistic to reap the benefits from this practice.
A weird thing happened the other day. I was making a poster for work — something that usually stresses me out — and I found myself entering a weird state of tranquility.
Normally I make these posters with Sharpies at the last possible moment, but that particular day I was making it early and using poster paint. I'm not crafty and I'm definitely not an artist — I can't remember ever painting anything with anything besides watercolors before I finally decided to ditch the Sharpies and use paint. So the practice of painting is almost wholly unfamiliar to me, and I was not expecting the repetitive motion of the brushstrokes to be so soothing.
It really shouldn't have been a surprise, since I've known at some level that arts and crafts have been a vital part of occupational therapy for more than a hundred years. This article at Science Alert explains exactly why crafts have such a powerful effect on human beings, especially in our stressed-out, hyperconnected world. 
At a time when many of us feel overwhelmed by the 24/7 demands of the digital world, craft practices, alongside other activities such as coloring books for grown-ups and the up-surge of interest in cooking from scratch and productive home gardens, are being looked to as something of an antidote to the stresses and pressures of modern living. Crafts such as knitting, crochet, weaving, ceramics, needlework and woodwork focus on repetitive actions and a skill level that can always be improved upon. According to the famous psychologist Mihaly Csikszentmihalyi this allows us to enter a "flow" state, a perfect immersive state of balance between skill and challenge. With what is increasingly referred to today as "mindfulness" being a much-desired quality for many people, it's not surprising crafts are being sought out for their mental and even physical benefits.
As I painted that poster, I felt the tension drain from my shoulders and neck. I had been mentally going through all the tasks I needed to accomplish in the hours ahead, but as I felt my body relax, my brain kind of relaxed as well. It stopped darting off on rabbit trails of potential tasks and things I had forgotten, and instead I was able to see a clear list of the few tasks I genuinely needed to accomplish. Suddenly, my busy day didn't seem like it had to be all that busy after all.
When I took a break from painting the poster, I knocked the necessary items off my to-do list in a quicker, more focused, and less stressed way than usual. With literally hours of unexpected time, I took advantage of my kids having a day off school to make cookies with my daughters and play at the park with my sons before I went to work.
It was a weirdly idyllic day, and it all started with painting a poster. I might not be artistic, but who cares? The next time I feel stressed and overwhelmed, instead of making lists I'm going to watch Bob Ross on Netflix and paint another poster.
Read more:
What's your "stress personality"?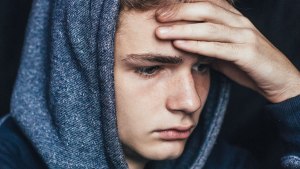 Read more:
Got a stressed-out teen? Here's how to help