On today's feast of St. José Brochero, let's pray for all priests, and for his fellow Argentinean who sits upon the Throne of Peter!
You can get Aleteia inspiration and news in your inbox. Our specially curated newsletter is sent each morning. The best part? It's free.
Sign up here
After a beatification process which lasted about half a century, José Brochero, "the gaucho priest" (let's define "gaucho" as "Argentinian cowboy"), was proclaimed a saint in 2016 by an Argentinian pope who is likely one of this cowboy's greatest fans.
John Paul II canonized Héctor Valdivielso Sáez in 1999, then considered the "first Argentinian saint." A La Salle brother, Sáez was born in Buenos Aires but lived most of his life in Spain, where he died a martyr.
Brochero, on the other hand, always lived in his native Córdoba, where he died blind and leprous, on January 26, 1914. Thus, the so-called "gaucho priest" holds the title of the first "real" Argentinian saint.
Pope Francis has described Brochero using one of his favorite images, "a shepherd with the smell of sheep," and a "pioneer" of evangelization, bringing the message of Christ to the "existential peripheries," becoming "poor among the poor."
Born in 1840 in Santa Rosa de Río Primero, Brochero was always known as the "gaucho priest" because he rode his famous mule Malacara from town to town, seeing to the needs of rural people. He was known to preach using the sort of everyday lingo of his parishioners, so they would relate and understand. One might say Brochero was indeed a pioneer of Gospel enculturation.
The "gaucho priest" (who was said to be foul-mouthed and a heavy smoker) was ordained a priest in 1866 and immediately went to help the sick and dying who were victims of the cholera epidemic that struck the city of Cordoba in 1867.
A few years later, in 1869, he took over the parish of San Alberto, now known as the valley of Traslasierra, in the town of Villa del Tránsito — now called Villa Brochero, as a homage to Brochero. He built churches, chapels, schools and roads in the mountains for the people who lived scattered in distant parts of the Sierras Grandes with no roads or schools. He also planned a railway channel that would cross the Valley.
José Brochero, pray for us!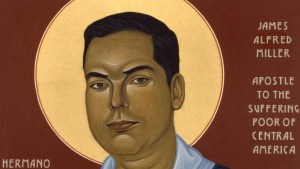 Read more:
Brother Fix-It gave his life in Guatemala: Another American martyr to be beatified