Francis speaks of how mothers must reconcile with their babies, and sing to him or her the unsung lullaby
Pope Francis spoke about abortion Sunday evening as he returned to Rome from the Panama World Youth Day, saying that a person truly understands the horror of abortion from within the confessional, hearing how women repent of their abortions.
The pope said that unborn babies must be given mercy, since "the message of mercy is for everyone." And mothers who have aborted must also be given mercy, but, he said, it is a "difficult mercy" because the challenge is not in "giving forgiveness" but in accompanying a woman who has realized what she's done.
"These are terrible tragedies," he said.
"A woman when she thinks about what she did… but I tell you the truth, you have to be in the confessional and you have to give comfort there; you can't say anything," the pope reflected.<
The Holy Father said that women "have to meet with their child."
He continued: "I advise many times — when they call, they have this anguish: 'Your child is in heaven, talk to him. Sing to him the lullaby that you have not sung… you have not been able to sing to him.' And there is a way for the mother to reconcile with her child. With God there is already forgiveness; God always forgives. But mercy also, that you elaborate this. The tragedy of abortion, to understand it well, one must be in a confessional. Terrible."
Read more:
Pope Francis explains why we must always welcome the unborn
He again mentioned children at the very end of the press conference.
I want to say another thing that I said when I came back from Colombia, speaking of the experience in Cartagena and the other cities, a thing that we don't see in Europe, that is, the pride, in this case of the Panamanians. You lift up the children and they say to you, "this is my victory," "this is my future," "this is my pride." This in the midst of the demographic winter we're living in Europe. In Italy, below zero. It has to make us think. What is my pride? Tourism? The villa [home]? The dog? Or lifting up a child? Thanks! Pray for me, I need it.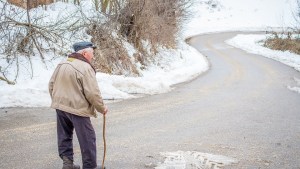 Read more:
Pope: Protecting endangered animals and then ignoring the elderly is schizophrenic