Sister Carla Venditti meets them in Rome and gives them a home in Abruzzo.
Sister Carla Venditti, a religious sister of the Apostles of the Sacred Heart of Jesus, has for several years now divided her time between the streets of Rome and the nearby region of Abruzzo, where she evangelizes on the street and manages to save numerous young women from prostitution. The young women are brought to the Mother Clielia Oasis Center in Avezzano, in Abruzzo, where they experience a path of spiritual and social rebirth, as well as learning a new profession.
Even the internationally famous singer-songwriter Patti Smith, during her latest tour in Italy, embraced the Sister as a sign of gratitude for the work she does. They met at the Cathedral of Avezzano, where the singer held a concert.
"When God enters your heart …"
Sr. Carla is well-known and appreciated in the region. "When God enters your heart, you're saved, and you change!" she says. This has been her "battle horse" since 2012, when she began this mission. "The habit helps a lot. At first when we tried to talk with the prostitutes, we said we had brought them a surprise. And they were willing to talk, even though they didn't know us. Nowadays, we have a more experienced approach."
The religious sister has also written a storybook, "The Rebellious Daffodil" ("Il narciso ribelle"), which is sold to help finance the mission of the Mother Clelia Oasis Center. "Stories have an immediacy to them; they talk to adults with the language of children, so they listen to you more," she said in an interview with Vatican News (September 3, 2018).
A push from Pope Francis
The idea for the home was born in response to the request of a special person.
"After Pope Francis' invitation, our congregation accepted the idea of opening part of the General House (the congregation's headquarters) to welcome women saved from prostitution," Sr. Carla explained. "We go to the most dangerous streets at night, and drawing near to the young women, we try to create a sincere and open rapport with them, based above all on friendship and trust."
"We felt," Sr. Carla continued, "that more was needed, and we created a family, not just a shelter. It's important to listen to how Christ cried out on the cross for help for those who, like these young women, experience physical and moral suffering."
Markets and bracelets
Storybooks aren't the only way they finance their mission. Sr. Carla is a volcano of ideas and projects.
"We don't have any outside funding, so we have to put ourselves to work," she said. "So, we organize little markets and sell objects that the women themselves make, such as bracelets, holy objects, etc."
Read more:
Sr. Eugenia Bonetti Rescues Trafficked and Prostituted Women; You Can Help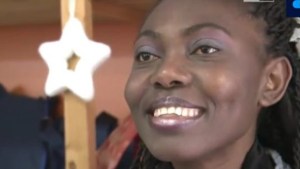 Read more:
They were prostitutes — now they're seamstresses, thanks to the Ursuline Sisters