Instead of debating parenting styles, it's better for parents to listen to and learn from each other.
For most of my kids' lives, we've lived several states away from my parents. Happily last year, we moved back to Texas where my family lives, and we've had the chance to make up for lots of lost time.
One interesting (and okay, sometimes frustrating) result of being so close to my parents after so many years away is that it's become increasingly clear that my parenting style and my mom's parenting style are basically polar opposites.
My mom was extremely hands-on, exceptionally organized and dedicated to giving my siblings and me every possible opportunity in life. We had piano lessons, guitar lessons, theater classes, dance classes, and a multitude of year-round sports. She was always driving one of us to practice and another one to lessons while reviewing homework and upcoming projects and tests with all of us while we sat in the car, homework folders open and pencils out. She knew our grades at any given time, knew which of us needed to work harder in one area and why.
I, on the other hand, could be labelled a "free-range" parent. I don't mind letting my kids play sports at school or take lessons here or there, provided we can afford it and it's on evenings I can get them there. But I don't feel strongly convicted to seek out new opportunities for enrichment — in fact, I'd much prefer to set my kids free in the neighborhood till the sun goes down, because I strongly believe that freedom and unsupervised, unstructured outdoor play is about the most enriching gift you can give to children. And when it comes to their schoolwork, I tend to let them succeed or fail on their own. After all, that's how life works.
Recently, the New York Times featured an article on the profound ways parenting has shifted over the past few decades, which highlights the disparity between my mother's parenting style and my own.
While this kind of intensive parenting — constantly teaching and monitoring children — has been the norm for upper-middle-class parents since the 1990s, new research shows that people across class divides now consider it the best way to raise children, even if they don't have the resources to enact it.

There are signs of a backlash, led by so-called free-range parents, but social scientists say the relentlessness of modern-day parenting has a powerful motivation: economic anxiety. For the first time, it's as likely as not that American children will be less prosperous than their parents. For parents, giving children the best start in life has come to mean doing everything they can to ensure that their children can climb to a higher class, or at least not fall out of the one they were born into.
The interesting thing about both my mother's parenting style and my own is that in the end, both are motivated by a desire to accomplish the same thing: give our kids a solid foundation for a successful future.
I feel incredibly blessed to get the chance to spend so much time with my mom, because I'm learning a lot about why she raised us the way she did. Watching her check in with my kids about their daily assignments and listening to her advice about how to help them in various areas has shown me the wisdom behind the way she parented my siblings and me. I've begun trying to incorporate a lot of that wisdom into my own parenting, because it's invaluable for building strong relationships with my kids and for teaching them how to develop responsibility, rather than just expecting them to figure it out.
Likewise, my mom has seen some value in my more hands-off style. She's seen the way letting my kids play outside in the afternoons without supervision instead of filling their afternoons with structured activities fosters a sense of independence and helps develop social skills.
In the midst of an era where fierce debates rage between friends and family about which parenting style is best, I'm eternally grateful for the chance to learn firsthand the benefits of a parenting style that's different from mine. Because the truth is, there are benefits to every parenting style. Instead of spending time debating, our kids would be much better served if we parents listened to and learned from each other.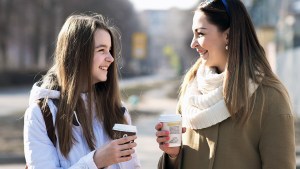 Read more:
The trick to parenting independent teens requires more than just rules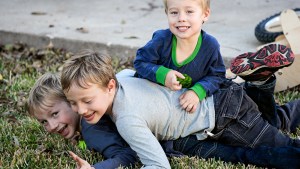 Read more:
3 Survival tips for parenting boys from St. John Bosco