This is not the first time in history that a society has faced a population of young men having difficulty finding their place.
Recent studies show a crisis for young men in society. Increasingly, men in their late teens and early 20s are abandoning the job market for hours playing video games, eschewing relationships and marriage and turning to pornography—in essence, they are putting off adulthood and clinging to adolescence.
The Canadian psychologist Jordan Peterson has become a popular and somewhat controversial figure in this area. His YouTube videos exhorting young men to put aside these pursuits and seize their futures, to "clean up your room and stand up straight," have inspired many to do just that. (His material has also raised certain questions about attitudes toward women, among other issues).
But while Peterson has become popular, some have been concerned that his approach is lacking something important: namely, God. Peterson quixotically has claimed both that he could generally be called a Christian and that he doesn't necessarily believe in God, "though I'm afraid he might exist." Should we look for guidance for our young men from someone with such contradictory ideas?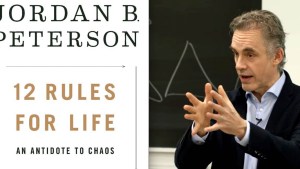 Read more:
Bishop Barron: The Jordan Peterson phenomenon
Of course, this is not the first time in history that a society has faced a population of young men having difficulty finding their place. One example in the not-too-recent past is still relevant to us today.
Fr. John Bosco was a priest from the Piedmont region of the Kingdom of Sardinia. Born in 1815 and dying in 1888, in his own lifespan he saw many changes in his society, from a united Italy to massively increased industrialization. As politics and economies shifted, many young men in his day in cities like Turin had trouble finding work, and many turned to petty crime and lives of dissolution. Don Bosco, as he came to be called, went out to meet them where they were, in the streets and marketplaces, to offer them wisdom and guidance—to offer them something more. He won them over with his kindness and humor, even employing sleight-of-hand tricks to catch their attention. (Today Don Bosco is the patron saint of magicians.)
Read more:
Are your kids bored? Here's Don Bosco's powerful remedy
He not only talked to them, but actively tried to help them in their circumstances. He assisted them in finding work and permanent places to live, even taking in some to live with himself. Within a decade he was helping provide shelter for more than 600 young men! His following grew so numerous that some even worried Don Bosco was gathering an army, and even went so far as to attempt to kill him. Don Bosco survived several assassination attempts by those who fundamentally misunderstood his purpose.
Eventually, some of the young men he guided decided they wanted to become priests like their mentor and help others who were in the situation they'd been in. Don Bosco gathered these followers into a religious order that took as its patron St. Francis de Sales, the great 16th-century guide to the holy and devout life. It was not long before the order came to be called "the Salesians of Don Bosco."
Don Bosco emphasized the importance of acting well, of finding the opportunity to do good and doing it. He famously said, "Do not put off till tomorrow the good you can do today. You may not have a tomorrow." Likewise, cautioning his young followers against actions they might later regret, the Don colorfully said, "Act today in such a way that you need not blush tomorrow."
Don Bosco was canonized in 1934 by Pope Pius XI, who had known him personally as a boy. Today the Salesians are one of the largest religious orders in the world, continuing his work of guiding young people to great closeness to and imitation of Christ. Don Bosco has inspired the lives of young men for nearly two centuries. Perhaps young men would consider his example rather than that of a Jordan-come-lately.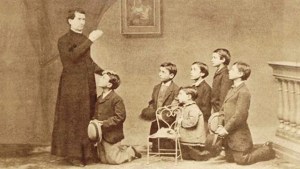 Read more:
7 Saintly tips on how to discipline a child, from Don Bosco