Romance does change after you start a family, but it's supposed to ...
It's Valentine's Day soon, and if you're new (or newish) parents, you're probably trying to figure out whether it's even possible to recreate the kind of romance you had before you knew how to change a diaper. Even just for an evening, wouldn't it be great to get that back?
It would be, sure, but it's probably not going to happen. Don't shed any tears over that, however, because even though romance does look different for parents than for starry-eyed fiances, would you really want to go back?
Romance changes after children the way your body changes after children. If your standard of the perfect body is one that's never been pregnant, then your postpartum body is always going to disappoint you. But wait, who says a perfect body has to look like a 20-year-old's who's never had kids?
Children ruin romance like childbirth ruins your body — it's all a matter of perspective. I'd only say my body's "ruined" if I want it to look like the body of somebody who hasn't been through the life I've lived so far. But I love motherhood and I love the person it's turning me into. That's plenty of reason to love the body that tells my story.
It's the same with romance in marriage. Marriage has probably changed you and your spouse. That's how it's supposed to work. You're supposed to grow and change with this person you've chosen to spend your life with. All the work you've done getting to know your partner, all the arguments you've finally resolved, all the misunderstanding and resentment you've worked through — these are hard won battles, and they change the way a couple relates.
You might not get butterflies anymore, but you have something better: an intimate knowledge of who it is that you're in love with.
If your idea of the pinnacle of romantic love is the things that couples do before they have children, then you'll definitely be frustrated. All kinds of things that used to be easy are suddenly impossible. (We walked along cliffs by the ocean on our honeymoon. Kinda hard to imagine bringing a double stroller along with us …) But what about all the things that you have now, that you couldn't even imagine back then? Just because romance feels less exciting than when it was just the two of you doesn't mean you don't love each other as much.
What about how comfortable you feel with each other? What about how your friendship has grown? What about how you know each other better than anyone in the world at this point? What about your shared history together, the mark that all the heartache and laughter and daily life has left on the two of you? Excitement is wonderful, but there's so much more to love than that.
It's easy to overlook all the wonderful new changes, because they seem so natural that you forget you didn't always know each other this well. You owe it to yourself, though, not to forget how valuable this "everyday" kind love is.
That's not to say that married couples shouldn't try to foster romance and intimacy; I think we're all familiar with how bad it can feel when you stop intentionally working on your relationship. But if you're missing that sense of excitement that you used to feel when you looked at your partner, that's not necessarily a sign of failure. It might just be the natural progression of love, and a sign of a love that has deepened.
Romance for new couples is all about the unknown — surprises, getting to know the other person, sharing new experiences together, and milestones reached. That's because romance is a way to build up love and foster connection.
Instead of trying to go back in time looking for novelty, lean into what you have, and look for the romance you might have overlooked. You have inside jokes, wordless communication, and years of proof that back up your declarations of love. If you take the time to notice those things, you might be blown away at how much love you find. I'd take that over the feeling butterflies on a first date any day.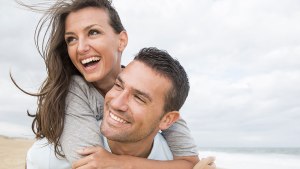 Read more:
6 Conversation starters for breathing new life into your marriage
Read more:
Why our idea of romance is all wrong