4 Lessons we can draw from the life of the beloved cloistered nun and art historian.
I first encountered Sister Wendy Beckett when my college humanities class watched her video series, Story of Painting. I wasn't Catholic at the time and don't know that I'd ever met a nun. My opinion of them, to the extent that I had one at all, would have been that they were kind-hearted, but naive and out-of-touch. The image of Sister Wendy that appeared in her video did not dispel those preconceptions; there was one quality writ large across her face, inherent in her defenseless smile and the brightness of her eyes: Sister Wendy was a picture of childlike innocence.
Innocence is disarming. Oddly, it's often associated with not being very clever. The smart, sophisticated people, it seems, are cynical and cunning. These are the world-weary intelligentsia who occupy positions of power and prestige, and there's a faint whiff of disdain for those who don't engage the world to conquer it, those who choose a simpler path. Sister Wendy might appear, at first glance, a perfect example of a woman who had run away from the harsh realities of the world because, as it's all too easy to think, she didn't have what it took to engage in the affairs of the real world.
On the contrary, though, Sister Wendy has quite a life story.
Wendy Becket was born in February 1930 in Johannesburg, South African, and died just this past December, on the day after Christmas, at the age of 88. In her youth, she entered the Order of Notre Dame de Namur and was sent to study literature at Oxford, where one of her professors was J.R.R. Tolkien.
"I had a wonderful time at Oxford," she says in an interview with the Catholic Herald. Even though, as a religious sister, she was limited socially, she says, "All the students were trailing crowds of glory to me because I never spoke to any of them."
After graduation, she taught for a few years, but then suffered a series of epileptic seizures, at which point she became a contemplative hermit. She lived the rest of her life in solitude and prayer, occasionally emerging from the quiet to record a profoundly insightful video about great works of art. At the news of her death, I offered a prayer of silent gratitude for her wise, subtle, and penetrating insights as she had shown me how to look at a piece of art.
When she died, she was as innocent as ever, but that doesn't mean she wasn't also very wise. Sister Wendy was deceptively intelligent, and not in spite of her innocence, but because of it. We must look past our initial reactions to her smiling face and shy humility to attend very closely to her words. We must look very closely at her, in exactly the same way she looked at a painting.
I say Sister Wendy was wise because of her innocence, and there are a number of ways that innocence fosters wisdom in us, lessons we can draw from the life of Sister Wendy …
First, those who are innocent maintain a sense of wonder.
Wonder, as Socrates teaches, is the beginning of wisdom. Cynicism, fake sophistication, and irony actually keep us from true insight, because cynical people are unduly dismissive. The awe of Sister Wendy as she stood before an artistic masterpiece slowed her down and allowed her to see the painting more clearly. She had no preconceptions, no need to criticize the work to fit her view into an ideology or to appear smart to others. She simply appreciated what was presented to her. Hers is the romance of human thought.
Second, innocence is open-minded.
Innocence doesn't prejudge and it seeks to learn more. Think about a child patiently watching a caterpillar crawl across a leaf, or a poet gazing into a starry sky. Sister Wendy would talk about all sorts of paintings, ranging from ancient icons to modern art. She could appreciate it all, see its most interesting aspects, and she was able to speak with wisdom and joy about everything she studied.
Third, innocence is empathetic.
Sister Wendy would look at an icon of the Blessed Virgin Mary and almost weep as she felt what Mary felt. She would stand in front of a painting portraying a horrible murder in an ancient Greek myth and she would be able convey the horror and power of the scene almost as if she was being confronted by the gods themselves. Innocence allows us to be receptive to the lived experience of others, to feel what it's like to walk a mile on their shoes.
Finally, innocence is winsome.
This winsomeness explains Sister Wendy's popularity. Her wisdom was modest, and when I watch her I never feel that she's talking down to me. Instead, she invites her viewer to join her on a treasure hunt. Through her innocence, her wisdom was easily passed on to those who she taught.
Perhaps the real challenge with innocence is that it makes us vulnerable. With all the tragedy, arguing, and selfishness out there, it seems smarter to defend ourselves from the world rather than to welcome it with open arms. But welcome it is precisely what Sister Wendy courageously did. And this may be the greatest wisdom of all, because what we're really eavesdropping on when we observe her encounters with art is a woman who genuinely loves what she is seeing. She was willing to be wounded by it.
The risk is worth it, because it is the eye of the lover that sees most clearly. All of life is a painting, this is what Sister Wendy taught us, but to really, truly see it, we must be wise enough to remain innocent.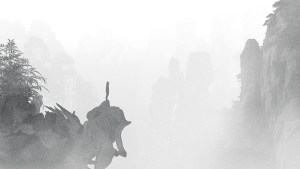 Read more:
This artist used his paintings to conquer depression