We can't always avoid these feelings, but we can manage them a lot better.
Emotional emptiness is a sensation that we can't overcome by buying things or going on trips; it can only be addressed by turning inwards and dealing with the state of our minds and hearts. Here are some tips that can help with these difficult moments.
Identify negative thoughts
Just as we check our email every day and delete the messages we're not interested in, it can be a good idea to create a similar habit with our thoughts. Examining them will allow us to see if the thoughts in our mind—and the feelings they evoke—are good for us, or counterproductive.
Not only is it important to identify and reject our negative thoughts; we also need to learn some strategies to avoid them occurring in the first place. For example, we should avoid jumping to conclusions about people's actions and intentions until we have enough information; otherwise, we risk judging them negatively without cause, and feeling hurt or insulted. Even when we determine that someone really has offended us, we need to keep a balanced perspective, not react out of proportion to the situation.
Another trap our mind can fall into is generalizing things too much—for example, taking one bad experience with a person or situation and assuming that's the only side of things, and that we're destined always to have a similarly bad experience.
If we manage to avoid some of these mental traps, it will help us to have more reasonable, helpful thoughts that will keep us grounded in reality, and it will make it easier to look for practical solutions.
Learn to ask yourself questions
Perhaps the most important thing isn't the strange and uncomfortable sensation of emotional emptiness as such, but rather what it means; it's generally an "alarm." Instead of sinking into the emptiness, we need to learn to ask ourselves what the causes are and how we can remedy the situation.
In today's world, we tend to flee silence; it's not hard to do, since we're surrounded by noise, music, images, etc., wherever we go. As a consequence, we often don't reflect enough or question what we're doing or how we're feeling. We go on auto-pilot, forgetting to ask ourselves how we or the people around us can really be happier. Being happy requires focusing on priorities every day, and that in turn means that we need time to reflect, to ask ourselves if we're doing what matters most to us.
Let yourself enjoy life
It's important that we take time to enjoy everyday things: our friends and family, the beauty of the world around us, the things we like to do. This will make us smile and will improve our emotional health and overall well-being.
Making a list of all the things we need to do, identifying what is urgent and important, can be a big help. It will allow us to see what's unnecessary, and is getting in the way of doing what really matters; it will also help us to see what important things we might be neglecting.
Strengthen your self-esteem
Self-esteem is like the immune system of our emotional life. A lack of self-esteem makes us more vulnerable to sadness and discouragement, and to thinking that we don't really deserve to be happy. Healthy self-esteem will help us face the challenges of each day.
In order to increase our self-esteem, we need to get to know ourselves better. We cannot love what we do not know. Getting to know ourselves better will allow us to recognize our strengths and weaknesses, and to accept ourselves as we are. Being honest, objective, and accepting of ourselves will make it possible for us to see how we can use our virtues and strengths to grow, becoming stronger and better.
There's no way to completely avoid unhappiness and negative feelings in life, but if we are well grounded in reality, reflecting honestly on who we are, on the good things around us, and on what truly matters, it will help us not to be overwhelmed in moments of difficulty and feelings of emptiness.
Read more:
How to detach from sadness and despair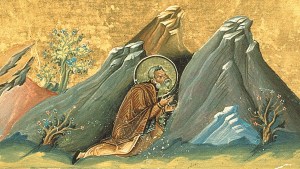 Read more:
A technique from the Desert Fathers to control our negative thoughts