The people of Catania invoked her intercession when lava threatened their lives.
St. Agatha's popularity spread rapidly in the 3rd century after her gruesome martyrdom. She was brutally tortured to death for refusing to renounce her virginity and Christian religion, and her story of perseverance in suffering has inspired many over the centuries.
Shortly after her death, the Italian people began invoking her intercession for their various needs. In particular, the local people of Catania used a veil she wore to protect them from total destruction. The Golden Legend summarizes how she interceded for the people before God when a volcano erupted.
One year from the day of Agatha's birth into the new life of heaven, the mountain that looms over Catania erupted and spewed a river of fire and molten rock down toward the city. Then crowds of pagans fled from the mountain to the saint's tomb, snatched up the pall that covered it, and hung it up in the path of the fire; and, on the very day of the virgin's birth, the stream of lava halted and did not advance a foot farther.
The volcano was Mt. Etna and it is believed that this was not the last time St. Agatha protected the people of Catania from an eruption. She continues to be invoked by people around the world against volcanic eruptions and is often invoked by firefighters.
God chose the virgin-martyr St. Agatha to be his vessel and continues to protect those who call upon her aid with a sincere faith.
Read more:
The tsunami that receded when it was blessed with the Blessed Sacrament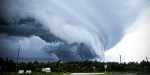 Read more:
Drive back violent storms with this powerful weather blessing