Pope gives round-up of historical trip to United Arab Emirates: Let us pray that the seeds sown may bring fruit according to His will.
"For the first time, a pope went to the Arabian Peninsula. And Providence wished him to be a pope by the name of Francis, 800 years after Saint Francis of Assisi's visit to the sultan al-Malik al-Kamil. I often thought of Saint Francis during this journey: he helped me to keep the Gospel, the love of Jesus Christ in my heart …"
And thus Pope Francis spoke of the historical significance of his brief journey to United Arab Emirates this week.
He gave a round-up of the trip during Wednesday's general audience, saying that in connection with the 2017 meeting in Al-Azhar, Egypt, it "wrote a new page in the history of dialogue between Christianity and Islam and in the commitment to promoting peace in the world on the basis of human brotherhood."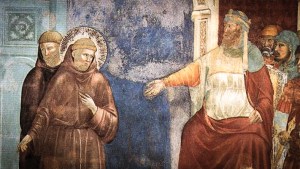 Read more:
St. Francis and the Sultan: An encounter of peace between Christians and Muslims
Francis described his host country as "a multi-ethnic and multi-religious 'oasis,' and therefore a place well suited to promoting the culture of encounter."
The Holy Father noted how he met a 90-year-old priest who went there to found many of the first Christian communities: "He is in a wheelchair, blind, but his smile never fails, the smile of having served the Lord and of having done great good. I also greeted another priest in his 90s – but this one was walking and still working – bravo! – and many other priests who are there in the service of the Christian communities of Latin rite, Syro-Malabar and Syro-Malankar rite, Maronite rite, who come from Lebanon, India, the Philippines and other countries."
The pope thus referenced the interesting make-up of the UAE Christian community.
In the cathedral in Abu Dhabi, for example, Masses are celebrated in Arabic, English, French, Filipino, Malayalam, Sinhalese, Urdu, Tamil, Konkani, German, Italian, Korean, Polish, and Ukrainian. The parish has some 100,000 members, who are living as immigrants in UAE.
Just over a million Christians live in the United Arab Emirates: almost all are workers originally from various countries in Asia.
Francis also encouraged the faithful to study the document that he and the Grand Imam of Al-Azhar signed: "the Document on Human Fraternity, in which together we affirm the common vocation of all men and women to be brothers and sisters, inasmuch as we are sons and daughters of God."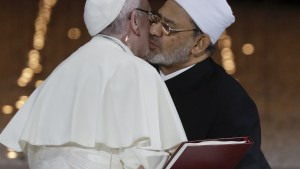 Read more:
What can the leader of Catholics and a leader of Muslims agree upon? Plenty
In an age such as ours, in which there is a strong temptation to see a clash between Christian and Islamic civilizations, and also to consider religions as a source of conflict, we wished to offer a further sign, clear and decisive, that instead it is possible to encounter each other, to respect each other and to engage in dialogue, and that, despite the diversity of cultures and traditions, the Christian and Islamic worlds appreciate and safeguard common values: life, family, religious meaning, honour to the elderly, the education of the young, and more.
The Holy Father concluded by reflecting that the trip is one of God's surprises — a favorite term Francis uses to speak of how God works with us, and how we must be open to his will.
Dear brothers and sisters, this Trip belongs to God's "surprises." Let us therefore praise Him and His providence, and let us pray that the seeds sown may bring fruit according to His will.
Read more:
If God is a God of surprises, what is my response, pope asks in Easter homily