McDonald's employee Russell O'Grady had a successful career that saw him become an integral part of the community.
It seems that fewer and fewer people these days are able to maintain a lifelong career in any one company, but one Australian man, Russell O'Grady, is hanging up his apron after 32 years of devoted service at McDonald's.
O'Grady started out in the fast food business as an 18-year-old. He'd found the placement through the Australian government initiative, Job Support, which aims to help those with intellectual disabilities find work. Proving a valuable member of the team, O'Grady was hired on a permanent basis and provided customers in Northmead, Australia, with a service and a smile for over three decades.
In fact, O'Grady's work was reminiscent of good old-fashioned quality service. As Wynn Visser, the deputy assistant of Job Support, explained to the Lejeune Foundation: "Russell's impact on people in his community is without doubt exceptional. Everybody knows him and they really love him because he always stops to shake hands and say 'Hi' to everyone he knows."
His supervisor, Courtney Purcell, also revealed that people would come to the restaurant just to be served by O'Grady, while other staff members would look after him, as reported in the Independent. It would seem that while he worked his best, he would also bring out the best in others.
This positive initiative also impacted on his family, with his father Geoff explaining to the Daily Mail: "People stop him on the street and shake his hand. He's very affectionate, dearly loved and appreciated, to such an extent that we just don't believe it."
Yet more importantly, it gave O'Grady himself a sense of normalcy. When asked if he was disabled, the young man said: "I used to be when I went to school, but now I work at McDonald's."
Now retiring at the age of 50, O'Grady will have time to follow his other interests, such as dog therapy, bowling, and working with his local retirement home. His 32 years of service are a perfect reminder that people with intellectual disabilities are not separate from us, but members of the community like everyone else and deserve to participate in society. When they do, they bring exceptional gifts that make a difference.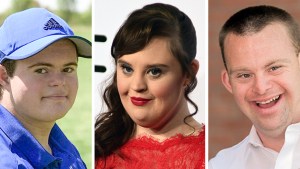 Read more:
10 Inspirational people with Down syndrome who smashed records and expectations