Here's how to manage your "energy budget."
Most people are aware of the dangers of a "debt spiral," where we dig ourselves deeper and deeper into debt. What we might not all realize is that our finances aren't the only area where we can fall into this trap. The same can be said of our physical and mental energy. So, if you're learning how to manage your fiscal budget, you should also learn how to manage your energy budget.
What's an energy budget?
An energy budget is simply all the energy you have. In an ideal situation, you wake up fully charged every morning and are full of energy. Picture it like the charge bar of your cell phone; ideally, you should start your day at 100 percent.
You use energy for various activities during the day. Everything you do reduces your energy level to some extent: work, meetings, conversations, decisions, shopping, browsing social media, making meals, and any other activity means that your charge is slowly approaching 0 percent.
During the day you can lightly recharge by resting, relaxing, napping, sitting in silence or doing something for pleasure. At night, sound sleep should supplement the energy shortages so that you can start the next day back fully charged.
Reality, however, is rarely so ideal.
Some days take more energy. There are stressful work meetings, public speaking commitments, a sick child, or a home emergency. You may be given additional responsibilities, or something unexpected may happen. You may use more energy than you have available, so you "take a loan" on your energy, crossing the line into exhaustion. If you don't take the time to recuperate fully, and if you have more similar days, you start living on an energy deficit.
Perhaps you don't make enough time for R&R because you have to finish a project, take care of a child, clean, cook, or help a friend. When the weekend comes, there's a whole different list of chores, or maybe you need to visit parents or friends.
When this happens, your life becomes rushed. You lose perspective and become more and more tired. When you wake up in the morning, you aren't fully rested, and your charge bar is not at 100 percent. The less you rest and sleep, the less energy you have. You try to power through it, to force yourself to go on, because you "don't have time" and you "have to work." Does that sound familiar?
Spiral of exhaustion
This is what we mean by a "spiral of exhaustion." Even if you manage to go to sleep earlier once, your energy deficit is so high that you wake up still tired in the morning, and every hour of the day just makes it worse. You're not as fast and effective as before, so you take more time to do the same activities.
This causes you to go to sleep even later the next day because you want to finish all your projects. The vicious cycle continues. Lack of time to rest, relax and sleep put you in a zombie mode. You dream of surviving until the evening, or until the holidays. You hope to rest during a long weekend, but when those days come, there's so much to do again that you forget about rest and your body's needs. You end up resigning yourself to being tired all the time.
Get out of debt
Let's face it: nothing changes by itself. You have to want to change, and you must be the one to act on that desire. Perhaps you're so tired that the thought of committing to change scares you. I understand—but no one will make those changes for you.
So, hit the breaks, and stop. Tell yourself to STOP. Don't let yourself keep saying, "I just have to …" Really, nothing will happen if you don't clean today. If your child doesn't get a three-course meal, it won't affect his future. If you don't return a phone call, or you cancel a meeting, the world won't end. Be uncompromising. Stop and rest.
If you have young children, ask for help. Let someone take care of them, while you take a nap or do something nice for yourself during that time. Give yourself the right to relax.
Once you recover and regain some energy (that is, pay back some of that energy debt), think about what you could change in your daily life to be less tired on a regular basis. What can you let go of? Life is the art of choices. Choose wisely. You can't do everything and be perfect in everything. Living with your energy in negative numbers will take your joy away sooner or later. Put things into perspective, and take care of yourself, so you truly have the energy to do all that you want and need to do for yourself and others.
Read more:
Learning to Slow Down and Say No When Anxiety Hits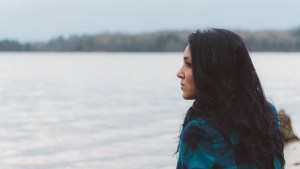 Read more:
Feeling overwhelmed by everything you need to do?