The sheriff can't swear there was a bear there, but he's sure God was protecting Casey.
Casey Hathaway's family spent a terrible 55 hours at the end of January. They hardly wanted to imagine what might be happening to their little 3-year-old son, who had disappeared from the back yard of their home in North Carolina on January 22, 2019.
Each hour that passed made them fear the worst, since the region was experiencing rain and below-freezing temperatures.
Fortunately, however, Casey was eventually rescued on January 24 by search and rescue teams. They found him in a thorn bush, wet to the bone and freezing cold. The county sheriff, Chip Hughes, didn't know what to think when Casey explained that he hadn't spent all that time alone; he claimed he had been accompanied and protected by a friendly bear.
The sheriff and the family were taken aback to hear this; although there's a large black bear population in the area, they don't socialize with humans, and should be avoided. The woods of North Carolina aren't Hanna-Barbera's Jellystone Park, and black bears aren't friendly and talkative like Yogi Bear. Casey was lost in terrain where it would be very difficult for a 3-year-old to survive.
A miracle?
Casey's aunt Brianna Hathaway didn't hesitate to call it a miracle. On Facebook, she said, "He said he hung out with a bear for two days. God sent him a friend to keep him safe. God is a good God. Miracles do happen."
While many suspect the bear is a figment of Casey's imagination, from the perspective of faith, there's no reason why God couldn't use an animal to protect and accompany him; there are many biblical examples of animals serving God's purposes in unusual ways—just remember Balaam's donkey, Jonah's whale, the ravens that fed Elijah, and the lions that refused to harm Daniel. Certainly, Casey could have used some protection in those woods — besides bears, there are coyotes and red wolves in the region, the latter being a protected species recently reintroduced to the area.
His only goal: To see his mother
When he was found, Casey stayed strong. He was cold, wet, and scratched, but he only said he was thirsty and wanted to see his mommy. The rest didn't seem important to him.
Does the sheriff believe Casey's story?
Sheriff Hughes, speaking to a local television station, rejected theories that the boy had been kidnapped and released into the woods shortly before being found. All the evidence, he said, pointed to Casey actually being outdoors the whole time he was missing. Consequently, he's convinced God indeed protected the boy; "This kid was looked after, make no mistake about it," he said during the interview.
As to whether or not the friendly bear was literally real, he said, "I don't know if that meant he saw a bear. I don't know if that meant a bear embraced him or what it meant. I thought it was a very cute story and if that's what helped that child survive through this, you know what, I'm going to embrace that story that came from a three-year-old, to his mom, to us."
Friendly bears are popular figures in literature and pop culture: Winnie the Pooh, Paddington Bear, Baloo, Yogi Bear, and more. Now, perhaps we need to add another one, based on a true story: Casey's friendly bear, sent by God.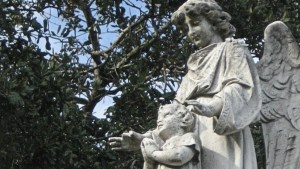 Read more:
Worried about your children? Say this prayer to their guardian angels