Combining charitable causes with dating is the perfect way to meet a worthy date, future spouse, or even a friend.
From what friends and the media seem to relay, dating in the modern world can be slightly hazardous. With long working days, errands, and keeping fit, it's hard to get out there and meet new people. While in the past we might have met our future spouses at school or college, or even through a family friend, these days it seems trickier to find the one. That one person who shares your core values, hopes for the future, and even your faith.
For residents of Austin, Texas, there's a new dating app available that matches like-minded people on one all-important virtue: the desire to help others. Swoovy works in a similar way to Tinder — using a swipe left/right motion to select a preference — although the biggest difference is, you don't get to choose between people, but among different volunteer projects.
For example, if you're passionate about education, you can swipe a project that matches that cause. There, you'll meet up with other like-minded individuals who have the same desire — now isn't that already a huge quality you'd like in a future spouse? Over the course of the project you can get chatting with other volunteers and perhaps find other things in common that might eventually lead to a more romantic date.
Co-founder of Swoovy Brooke Waupsh shared with CBS Austin News, "You're in a group environment, you're doing something good for other people, you have a natural icebreaker and something to talk about ."
One couple, Paula and Kevin McLaughlin, can attest to this. They actually met volunteering in the kitchen at a church retreat and 30 years later they're still married. "When you're volunteering, you're really not inside your own head, you're doing something different and you can focus on that and really have a chance to interact with each other without focusing on interacting with each other," explains Kevin McLaughlin.
The best thing about the app is that whether you meet your future spouse or not, you'll leave the project feeling you've achieved something for others and you might have made a few friends. And of course, there's absolutely no harm in continuing to try as there are plenty of worthwhile causes that need volunteers and you just never know who else will be helping out!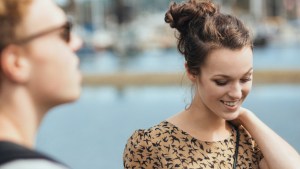 Read more:
5 Successful dating tips for shy girls