I've learned first-hand that teens aren't always like the stereotype we imagine ...
You can get Aleteia inspiration and news in your inbox. Our specially curated newsletter is sent each morning. The best part? It's free.
Sign up here
Last week, a boy from school called my 13-year-old something terrible in a group chat. When she told me about it, white-hot mama bear rage flashed through me and I asked to see the text thread. Sure enough, there it was — followed by 12 other texts back and forth from various kids, as if an insult hadn't just been flung through the brave new world of teenage connectivity to land squarely on my daughter.
Then a 13th text came through, from one of Sienna's female classmates. "Guys, are we just gonna pretend that didn't happen?" I could feel the indignation in this teenage girl's words, her righteous anger on behalf of my daughter. One by one, the kids began to call out the insulter and defend Sienna. Then they began sending her individual texts to comfort her and assure her that they had her back.
I approached my daughter's teenage years prepared for cattiness, nastiness, and "girl drama." And although I've seen some of that, what I've seen far more of is the astounding capacity teenage girls have for compassion–a trait our society wholly ignores. A recent Medium post details the radical kindness one mom of a teenage girl witnessed while waiting with her daughter for a concert:
Standing in this line, I have watched a girl carefully tuck a loose thread into another girl's sweater. I have heard a girl whisper, "Does anyone have a tampon?" and witnessed a dozen hands dig into purses and backpacks in response. I have overheard girls openly discussing their insecurities, safe in the knowledge that their friends won't exploit the vulnerability but try to repair it. "No, seriously, you can totally pull off those boots. They don't make your feet look big; they make you look fierce!"

Over and over, I witness the girls' radical kindness. If you are lucky enough to have teenage girls in your Instagram feed, just watch what happens when one has a birthday. You have never seen such an outpouring of love and thoughtfulness. They are effusive in their praise of one another, but also specific. They build each other up, day in and day out. They seem to know how much the rest of the world will try to tear them down.
When one of the girls in 7th grade has a birthday, the other girls get to school early and decorate her locker. The lockers always look like explosions of color and chaos when they're finished, but if you look closer you can see how many thoughtful details went into the decorations. Tiny volleyball stickers, basketball shaped balloons, comedy/drama masks, and handpicked Beanie Babies are just a few of the items the girls have used to celebrate each other's uniqueness. Gifts are offered throughout the day, sometimes extravagant ones — one of my daughter's friends gave her a personalized leather-bound Bible for her 13th birthday.
These teenage girls don't just limit their radical kindness to birthdays, either. Sienna is always tuned into the emotional lives of her friends, aware of who had a bad day at school and who got grounded at home. She sends and receives texts during her screen time hours full of effusive praise and expressions of affection. She even fills her lunch with items from the pantry that her friends particularly like — a practice I've had to limit, because her generosity far outstrips our grocery budget.
And the few instances of drama and cattiness we've experienced have almost always been swiftly resolved by the girls themselves, without an adult needing to step in. I've seen tearful, heartfelt, unprompted apologies offered by teenage girls that show astonishing maturity and tenderness. To be honest, I've sometimes felt envious of the clear depth of my daughter's friendships — I wish I had friends as true and kind as these teenage girls.
As adults, we should pay more attention to the compassion of teenage girls. We should spend more time praising them for their virtues than sneering at their perceived flaws. Maybe if we spent less time believing and perpetuating the stereotypes about teenage girls, we would realize that they actually have a lot to teach us about kindness and friendship — and those lessons are ones we need to re-learn.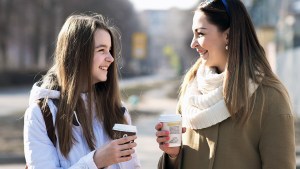 Read more:
The trick to parenting independent teens requires more than just rules
Read more:
8 Secret acts of kindness that anyone can do