Our children all have different, God-given talents, and it's vital that we celebrate this.
When I was growing up, I was always on the honor roll. I loved school because it came easy to me, and I although I was a diligent student, the classes that required me to work hard were few and far between. I got used to seeing my  name on every honor roll and getting academic awards at the end of each school year.
My own kids are now in the years when academic achievements are beginning to be recognized. For my oldest, middle school is the beginning of the honor roll and academic achievement years, while my two elementary schoolers are entering the brave new world of spelling bees and speech meets. While the 3rd and 4th graders are holding their own academically, my 7th grader's academic experience couldn't be more different than my own. When the honor roll list is released each quarter, she checks it religiously … even though we both know her name won't be there.
So when I read this post at Scary Mommy about one mom's experience, it resonated with me:
Every week my daughter waits, but she doesn't get it, because the other kids are more noticed, and sometimes they are more likable. They fit the description of the school's idea of a hardworking student. My daughter doesn't get an award for trying as hard as the other children try. She has to put in twice the effort just to achieve half of what comes easy to other children. It is a struggle for her not to get distracted or to stay still in her seat. She works at it every. Single. Day. She is resilient and always makes an effort. It's hard for her and she keeps persisting; but she doesn't get an award for that.
Sienna doesn't struggle with ADHD like this mom's daughter, but in many respects her experience is the same. It takes her twice as long to complete her homework, and studying for tests is a constant battle to stay focused. She's habitually forgetful, and often has to complete the same work twice because she misplaced it or left it in her locker. It's been hard for me to figure out how to help her because her struggles are so completely foreign to my experience, and I'll admit that at times I've felt both frustrated and hopeless.
Luckily for both of us, Sienna's teachers are amazing. They spend extra time with her, both before and after school, helping her develop better study and organizational skills. They hold her accountable when she's not diligent, and they celebrate her successes every bit as genuinely as they celebrate the kids on the honor roll. They've taught her things I never had to learn, but things I wish I had learned, because those lessons will serve Sienna well in her future.
For my part, I've begun focusing more on my daughter's strengths than her struggles. Having the blessing of supportive teachers allows me the freedom to support her in other ways. I remind Sienna every day that she is an incredibly gifted athlete and blessed with remarkable social skills. Her talents might not shine as brightly in the classroom as my own did, but when it comes to sports and relationships, her talent is so brilliant it's sometimes blinding.
My 3rd and 4th graders are almost the opposite; their gifts are far more concentrated academically. They're unlikely to be shining stars on the field, and that's hard for them in a different way. But each of their gifts comes with a struggle, and for that I'm grateful.
I'm so glad that none of my children are equally talented across the board. If one of them was a brilliant student, a gifted athlete, and popular among their peers, that's the child I would worry the most about. Kids need adversity to learn and grow, and it's the child who doesn't face adversity early on who suffers the most when challenges finally arise.
That said, it's important to find those areas where our kids shine and celebrate them, especially when they're facing adversity in other areas. It's equally important to find different tools and resources to help our kids when they struggle, especially when those struggles are ones we haven't faced ourselves. Don't be afraid to ask for help or advice from teachers or other parents — it doesn't mean you're failing your child. In fact, it's a way of going above and beyond to help them.
It can be hard to be the kid who never makes the honor roll or the sports team, so if, like me, you're raising kids whose experience in school is vastly different from your own, don't despair. Remember that God gave them their own unique talents because He has a plan for them — and remind them, and yourself, of that truth every day.
Read more:
How to teach your children to manage their emotions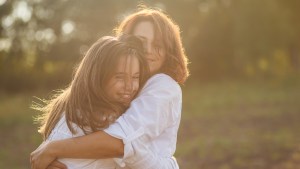 Read more:
Finding hope when you're parenting a pre-teen