The spiritual director of St. Margaret Mary Alacoque has some profound insights.
St. Margaret Mary Alacoque, the religious nun who received private revelations about Jesus' most Sacred Heart, confided her entire soul to another saint, Claude de la Colombiere.
Claude was a Jesuit priest in the 17th century who was appointed the spiritual director for the Visitation Sisters in Paray-le-Monial, France. It was there that he met St. Margaret and would give her spiritual direction throughout the years when she experienced visions of Jesus.
Personally he had a deep spiritual life and a similar love of Jesus' Sacred Heart, a spirituality that he would try to foster among others.
Many of his profound spiritual insights were compiled in a book entitled, The Spiritual Direction of Saint Claude de la Colombière, and reveal simple tips that anyone can follow. Below are a few tips regarding prayer.
Read more:
8 Tips from St. John Paul II on prayer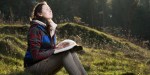 Read more:
How to find interior peace in prayer