And it's one we could all join in to help with.
You can get Aleteia inspiration and news in your inbox. Our specially curated newsletter is sent each morning. The best part? It's free.
Sign up here
A partially sighted woman, who also suffers from cerebral palsy, is enjoying a whole new shopping experience thanks to one simple question. Chloe, from Leeds in England, was out shopping when a staff member of a store asked if she wanted him to describe the clothes to her.
As Chloe says in a video with BBC Leeds: "One simple question can make all the difference." Not only does it help her out on a practical level, it demonstrates that when these shops extend this type of kindness they make people feel that they count, that their business is just as important as someone else's. The video is worth watching just to listen to the young salesman trying to describe a floral top!
Thankfully, there are some innovative designers out there who incorporate descriptions for the blind into their clothing, thanks to Braille tags.
Maria Sol Unga, from Argentina, is one of these designers who has also created clothing that has a pocket specifically made to hold a cane. There's also the White Cane Label, which tries to discover what clothes a customer likes and then sends them out complete with Braille cards and care instructions.
For those of us with no visual impairments it's difficult to appreciate the daily difficulties the blind or partially sighted face. While Chloe is trying to encourage other shops in her hometown to follow this store's example, this initiative is a reminder to all of us to simply look out for those who have disabilities, or who require help, when we're out and about and offer a helping hand … or eye!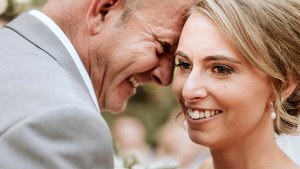 Read more:
Photographer helps blind bride "see" her wedding photos