Christians are doing a lot to confront poverty in the society. But we have to do even more.
Valentine's Day brought us reminders of romance everywhere, but all these symbols of love can mean much more than romance. This was the message at a Valentine concert held in Manila on February 12. The concert was held at St. Paul College, Quezon City, and drew an audience of 400.
The concert was hosted by an group called Anawim Mission, which is dedicated to Christian unity. The organizers wanted the show to promote awareness and raise funds for various missionary projects around the country. Fifteen performers came from Mindanao, a way of remembering the victims of two recent bombings in that region caused by sectarian violence.
Organizers explained the concert was meant to express solidarity with those suffering from unjust conditions, aside from raising donations for communities Anawim is rehabilitating. Its deeper aim was to make the audience more aware of the hard living conditions in these communities, and through this, move them to find better ways to alleviate poverty in those villages.
Aside from musical numbers, several Catholic priests and a Protestant pastor present at the concert delivered messages about love. A common theme they emphasized was the importance of seeing beyond the commercialized and romanticized messages of Valentine's, because more than romance, love is also a call to care for those who are suffering or disadvantaged, thereby echoing the call to solidarity found in Catholic social teaching.
This kind of love, according to Protestant Pastor Nestor Revillas, expresses selfless mercy and compassion, trademarks of an authentic Christian love. Archbishop Ledesma of Cagayan de Oro stressed a similar point in his written message for the concert, where he affirmed organizations who have a "resolute commitment and steadfast love for the poor."
Events like this one reveal a side to Filipino Christianity not often talked about in international media. Filipino Christianity is better known for its elaborate religious traditions, such as the Black Nazarene procession. These yearly celebrations, which are a combination of Catholic liturgy and folk tradition, are often viewed as interesting cultural artifacts, expressions of a down-to-earth and deep faith, but also old-fashioned and sometimes, superstitious.
This concert is evidence that Filipino Christianity is more than ritual. The experience many Filipinos have of Christ has inspired them to express their faith in ways that address pervasive social problems. Christianity is moving beyond Church doors and is beginning to transform society.
Read more:
Bible is the most widely read book in Philippines
Examples of how this vision unfolded in the last 27 years include Gawad Kalinga, another community rehabilitation initiative, and the homes for street and abused children set up by the Salesians of Don Bosco. Mother Teresa's nuns also have a home for abandoned children and another for abandoned elderly.
Many Catholic schools include immersion programs, which expose privileged students to the dehumanizing social realities of families suffering from hunger and a lack of livelihood opportunities. Projects like this one in Tondo, Manila, offer a regular feeding program for malnourished children. Another admirable effort is the drug rehabilitation program of the diocese of Novaliches, which offers healing and counseling to victims living in poor areas.
Reaching out and seeing Christ in those ravaged by poverty has also been a theme in the homilies and speeches of Manila Archbishop Luis Antonio Tagle, who also happens to be president of Caritas International. And there are countless other examples that are evidence of this hopeful trend.
Although these efforts are commendable, still the socio-economic gap between the elites and the most disadvantaged classes has been increasing in recent years. These numbers tell us there is still much to improve in how Filipino Christians live out solidarity with those suffering from poverty.
This Valentine concert can be interpreted as a reminder that although the work of solidarity has begun, Filipino Christians need to find better, more encompassing ways to overturn the indifference that fuels poverty.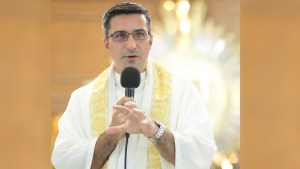 Read more:
Priest leads effort to rehabilitate addicts in Philippines