If you felt emptiness and loneliness last week (even while seated beside the one you love), that's a good thing.
With Valentine's Day behind us, many are breathing a sigh of relief. It's one more Valentine's Day alone or the first following a divorce, a celebration of romance when you feel like you're sleeping next to a stranger, a reminder of what you've lost or what you may never have. It's not easy.
Even those who are happily matched to the partner of their dreams may have found themselves dissatisfied last week, living a beautiful love story that somehow isn't enough.
Good.
If you felt that longing, that emptiness, that loneliness (even while seated beside the one you love), that's a good thing. Because you were made with an infinite longing in your heart and the finite things of this world will never satisfy. Not money, not pleasure, not even true love and a happy family. And when we try to force anything other than God to fill our hearts, we begin to discover just how much we're missing without him.
This is one reason I don't hate Valentine's Day, despite being 35 and single. Because holidays that celebrate romance remind me that my heart was made to be wooed and won by the perfect man: Jesus who came not as friend or even brother but as bridegroom and lover.
He's been speaking this truth to me for years, but never more strongly than when I read the Song of Songs. Written as a love poem between Solomon and his bride, it also speaks of the love between God and Israel, between the Lord and every human heart.
So every Valentine's Day (and frequently throughout the year), I pull out my Bible and flip again to that incredible opening line: "Let him kiss me with the kisses of his mouth." I hear Jesus speak to me in the words of the bridegroom, longing to be made one with his beloved, and I respond with the bride.
"More delightful is your love than wine," I say (1:1) and imagine being intoxicated by his love. I ask him to course through my veins like wine or like coffee. "Draw me!" I say (1:4) and open my heart to him, hoping that this once my prayer time will be more than exhaustion and distraction.
And he speaks, calling me "most beautiful among women" (1:8), crying out, "Ah, you are beautiful, my beloved, ah, you are beautiful!" (1:15) I sit with lines like this, like chapter 4 verse 7 where he tells me, "You are completely beautiful, my beloved, and there is no blemish in you," and I try to believe it. I read it again and again, this truth that is too good to be true: the God of the universe is captivated by me. He delights in me.
It's not something I've always readily accepted. Indeed, there are days when I still wonder if it isn't rather ridiculous to expect that the God who sees the hearts (and bodies) of every woman in the world could find something to love in me. But the more I read his Word, especially this love poem open before me, the more I believe that it must be true.
Then he sings to me, just as he will on that last day, "when the day breathes cool and the shadows lengthen" (3:17). "Arise, my love, my fair one, and come away," he calls (2:10), drawing me out of this earthly life of longing and grasping and hunger that can never be filled and reminding me that only he can satisfy. On that day, the winter will be past, the rains over and gone; but today, in him, I remember that the dreary suffering of this life isn't what defines me. "I am my beloved's and my beloved is mine" (2:16). And right now, soaking in his love, that's enough.
It's a tough book in spots, especially if you get hung up on descriptions (hair like goats and teeth like ewes and all that) but if you can allow yourself to enter deeply into God's Word in the Song of Songs, I think it will transform you. A quick read won't do it—start with 20 minutes and see how far you get, really wondering about each line and holding it in your heart, repeating the Lord's words to you and asking him to open your heart to believe them.
Ultimately, this was what last week's Hallmark holiday was about: the desperate need of every human heart to be perfectly loved. This love comes only from the God who created us out of love, became incarnate, died for us, rose for us, and remains with us in the Blessed Sacrament. If your heart is unsatisfied by what you received last week, there is more. Look to the true Bridegroom, the Lover your soul was made for. You'll find him in the Song of Songs.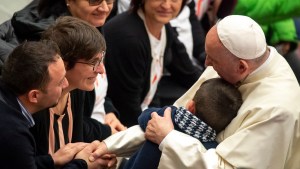 Read more:
God is knocking in order to caress and console us, says pope