A new study shows that time with close friends isn't a luxury for women, it's a necessity.
What can God do in your life with one Bible verse a day?
Subscribe to Aleteia's new service and bring Scripture into your morning:
Just one verse each day.
Click to bring God's word to your inbox
In the past week, I've had three different friends ask if we can find a time to hang out. Not for any particular reason — just so we can spend some face-to-face time together. I had to tell them that I can't meet up this week since seven solid weeks of children rotating through various winter viruses has wreaked havoc on my schedule. But I promised to check my calendar over the weekend and set something up for next week instead.
Unfortunately, that's a response I've been giving my friends for a while. And while it's true that I don't have time to get out, I'm starting to realize that it's inadequate — both for my friends and for myself. Sick kids and piles of work are part of life, and there's never going to be a time when life slows down enough to give me endless hours of free time that I can fill with whatever I choose … at least, not until my kids are grown up. But friendship is also part of life — or at least, it should be. Because according to a new study, spending time with friends is essential for a woman's health and well-being:
Robin Dunbar, a psychologist and head of this study, was interviewed by "The Vancouver Sun." He reported that women's overall health and well-being is improved when they get together with four best friends twice a week … Health benefits also included faster recovery time from illness, a stronger immune system, a decrease in anxiety levels, and increased generosity levels which makes women feel better overall. "Research shows that women, [possibly] more than men, need to maintain those connections. It increases serotonin and oxytocin, the bonding hormone," says Alisa Ruby Bash, PsyD, LMFT. Studies at Stanford seem to confirm this, as did a UCLA study showing that in times of stress, women don't just experience the drive toward fight or flight — they also release oxytocin. This hormonal surge can compel women to "tend and befriend," a.k.a., to protect their kids (if they have them), but also to connect with other women.
I had no idea that women release oxytocin during times of stress, but it absolutely makes sense. Periods of high stress always make me want to talk to someone — a friend, a family member, even a random stranger on the street.
During the long, lonely years when my children were small, I would sometimes feel desperate for adult conversation. Now that my kids are older and I work outside of the home, that desperation has faded. But the desire to spend time with my friends — and the accompanying low-key sadness when I hear other women talk about ladies' nights and happy hours — is ever-present, and I feel it more keenly when my stress level is high.
I've always thought this was a weakness, some kind of flaw in my character that proved I didn't have the emotional stability to face hard things alone. Despite all the scientific research I've read about the importance of friendship, I've still been convinced, deep down, that feeling lonely is really just kind of pathetic.
So learning that it's not just a feeling but a biologically motivated response to stress is honestly liberating. I don't have to secretly wonder if I'm an emotional trainwreck because I really want to call my friend and have coffee instead of check off the next 5 things on my to-do list. Even better, I don't have to feel guilty when I do call her — those 5 things aren't more important than my health. In fact, I'll probably do them better and more efficiently after an hour of conversation over a cup of coffee.
Now if you'll excuse me, I have a phone call to make. Three, in fact.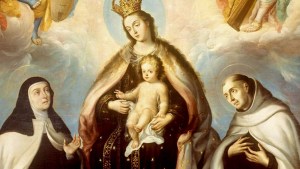 Read more:
10 Saints who were friends with each other
Read more:
Can you rebuild a friendship after years of disconnection?