"Nothing makes you more beautiful than being courageous and sure of yourself," says Carmela Bustelo.
Carmela Bustelo was studying architecture at the University of Belgrano in Buenos Aires, Argentina. After a bronchospasm she had been diagnosed with months earlier hadn't cleared up, she went back to the doctor. The tests showed that the reason for her discomfort was something else: a tumor between her heart and her lung. After more studies, the final diagnosis arrived: she had Hodgkin's lymphoma. The treatment: chemotherapy.
Faced with the fact that her hair would probably fall out due to her treatment, Carmela went to have a wig made out of her hair. She had beautiful long hair that reached down to her waist. It was her pride and joy. In order to feel more sure of herself in this situation, she decided to use headwear. Her psychologist lent her some turbans, which she herself had used in a similar situation. However, Carmela didn't feel comfortable with the style, so she found some old cloth, designed her own turbans and headbands, and sent them to a tailor to be made.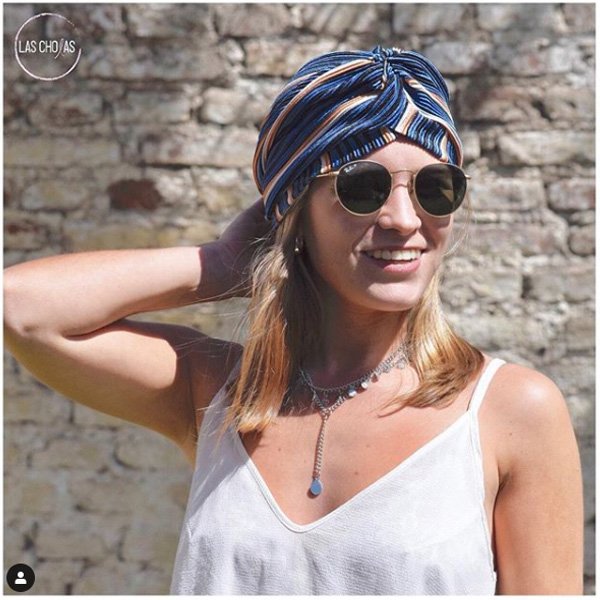 Launch the slideshow
During the summer, after her friends saw her new headwear and asked her where she had bought it, she started her own company: Las Cholas. "That was when I realized that I could make them and sell them, doing something good to distract myself and to help other women," she said in an interview with Infobae last year.
That was the beginning of the business that she still runs today, while continuing her studies, which she'll soon finish. She buys the cloth and designs headbands and turbans, not only for women wearing wigs, but also for those with very short hair. Her turbans are also an ideal accessory for women who've lost their hair or have shaved it off. As she explains, Las Cholas was born to show that turbans, headbands, and headscarves are not the exclusive territory of cancer sufferers.
"Yes, I can't deny it: cancer took away my beloved long hair, several pounds of my weight, the energy I used to have to do a thousand things in a day, and a few other things. But what it hasn't taken from me, and never will be able to, is my desire to conquer the world. It made me realize that I am not my hair, nor my weight, nor my physique, nor my face. I am much, much more than that. I've realized that it's up to me to look at myself in the mirror each day and to know that I can do whatever I set out to do. I can dress how I like, put on makeup even if it's two in the afternoon, grab any old scarf, wrap it around my head and go out onto the street feeling on top of the world," she writes on her business webpage, where people can order turbans and headbands which she ships all over the country.
"Nothing makes you more beautiful than being courageous and sure of yourself," Carmela says. Her designs, her fashion, and her vitality can also be followed on her Instagram account.
On that day, less than two years ago, Carmela received very bad news. She cried. But she stood up and started a business that sells more than 100 items per month. She's doing something that's good for herself and good for others, too.
Read more:
Friends rally in an incredible way to help farmer with cancer
Read more:
My Beautiful Bald Daughter